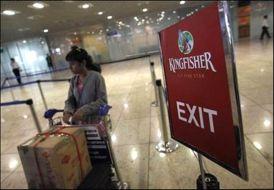 Kingfisher Airlines on Tuesday moved the Delhi High Court against Punjab National Bank's notice alleging the carrier has wilfully defaulted in payment of outstanding dues of over Rs 770 crore (Rs 7.70 billion).
The PSU bank has also said in the August 21, 2014 notice that if no reply is received within seven days then the airline and its guarantors, United Breweries (Holdings) Ltd (UBHL) and Vijay Mallya would be declared "wilful defaulters".
The matter was mentioned by the airline through senior advocate Rajiv Nayyar before a bench of justices Badar Durrez Ahmed and Siddharth Mridul which listed it for hearing on Wednesday.
Kingfisher has sought directions to the bank to rescind the notices and also restrain it from taking any action against the airline pursuant to the same.
The petition has also made the Ministry of Finance and the bank as parties in the case.
Central government Standing Counsel Anil Soni and advocate Naginder Benipal will appear for the ministry.
The airline has contended that the bank had denied legal representation to it in the hearings held pursuant to two notices issued last year and it apprehends that the same may happen in connection with the latest notice of August 21.
It has contended that such act of the bank is "arbitrary, unreasonable, untenable and unlawful".
The airline, in its plea filed through advocate Ajay Bhargava, has contended that the August 21 notice "for the first time and as a complete after thought has sought to rely on additional alleged facts in support of its decision to classify the petitioner, UBHL and Vijay Mallya as wilful defaulters".
The bank has issued the notices under the July 1, 2013 master circular of Reserve Bank of India which pertains to steps to be taken by commercial banks with respect to non- performing assets.