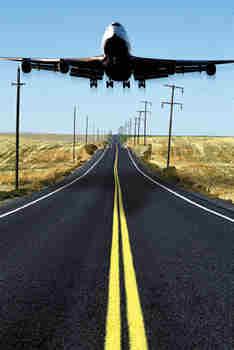 To boost the tourism sector in the state, the Karnataka government has decided to develop 11 airstrips. These airstrips will be developed at locations where there is no airport.
The infrastructure development department has identified Davanagere, Bagalkote, Udupi, Madikeri or Kushalanagar, Haveri, Gadag, Karwar, Kollegal, Chikmagalur, Raichur and Chitradurga for developing these airstrips.
According to official sources, the IDD has entrusted the development work to the Karnataka Housing Board in Gadag, Chikmagalur, Bagalkote, Udupi and Davanagere. The work in other places has been given to the Infrastructure Development Corporation (Karnataka) Ltd.
iDecK is a 49: 49.5 : 1.5 joint venture between the state government, Infrastructure Development Finance Company Limited and HDFC.
The department has also decided to develop airstrips in Yadgir and Koppal, and the work has been given to KHB. While the department of infrastructure development has estimated the cost of each of the 11 airstrips between Rs. 3 crore and Rs. 4 crore, the KHB has estimated the cost between Rs. 32 crore and Rs. 35 crore.
Since, the difference between the two estimates is very huge, the department is understood to be reconsidering its decision. Instead, it is in the process of drafting a new airport policy, the sources said.
The work is already under progress for building minor airports at Shimoga, Gulbarga, Bijapur and Hassan on a public-private
partnership basis.
The existing airport at Hubli is being upgraded to international standards and 650 acre land is under acquisition for its expansion.
The government has released a sum of Rs. 245 crore so far for land acquisition. This would be the third international airport after Bangalore and Mangalore airports in the state.
Acquiring and handing over of the additional land of 93 acre required for extension of runway for Belgaum airport is under consideration.
The Airports Authority of India is upgrading the runway, terminal building and apron taxiway.
The existing airport at Mysore started its operations last year during the Dasara festival when a Kingfisher Airlines flight made a landing.
In Bellary, the government is developing a new airport on a PPP basis. Further, the existing defence airport at Bidar and Karwar are also being developed for civilian operations.
The government is pursuing the matter with the defence ministry, which has given a temporary permission for civilian operations at Bidar airport.
The state government has already constructed a new terminal building. Since the airport is located within 150 km radius from the Rajiv Gandhi international airport at Hyderabad, the AAI is yet to give its clearance.
The state government is currently pursuing the matter with the central government for speedy clearances.