Both Vistara and AirAsia India, along with their partners, are quietly putting together an aggressive plan to become a formidable force in the skies.
At the core of this new push is their plan to go international this financial year.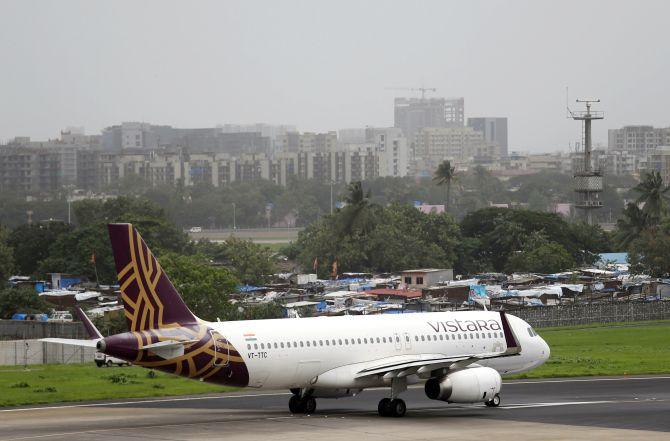 Five years into its aviation journey, the Tata group's joint ventures are still far from being counted as major players in the market.
Vistara and AirAsia India together have cobbled together just 9.5 per cent share of the domestic skies in the first quarter of this calendar year.
This was lower than low-cost carrier SpiceJet's 13.5 per cent, even though it was flying fewer aircraft - 13 of its Max planes were grounded following a safety scare - and a whisker ahead of Go Air's 8.9 per cent.
Aviation analysts blame this lacklustre performance on both airlines' excessively cautious expansion plans, questionable strategies - Air Asia initially decided not to fly from Delhi and Mumbai, the country's largest markets - and, of course, the adverse impact of controversies that the airlines got embroiled in from time to time.
So despite a booming double digit passenger growth year-on-year, Vistara, the 51-49 joint venture with Singapore Airlines (SIA), added only 14 planes over the past five years, taking its fleet to 23.
In contrast, IndiGo, the largest airline, added a staggering 123 new planes to its fleet during the period.
Two quick changes at the top in AirAsia India (in which Tatas have only recently acquired a majority 51 per cent stake), added to the turbulence.
The airlines' first CEO Mittu Chandilya left in a huff and his successor Amar Abrol went back to AirAsia group headquarters in quick succession.
Then, senior executives, including those from the Tatas, were summoned by the Central Bureau of Investigation over allegations of trying to influence government to change norms for international flying.
All this definitely slowed growth, but a new phase could be opening up for the airlines aided by the demise of Jet Airways which has left a void in the market.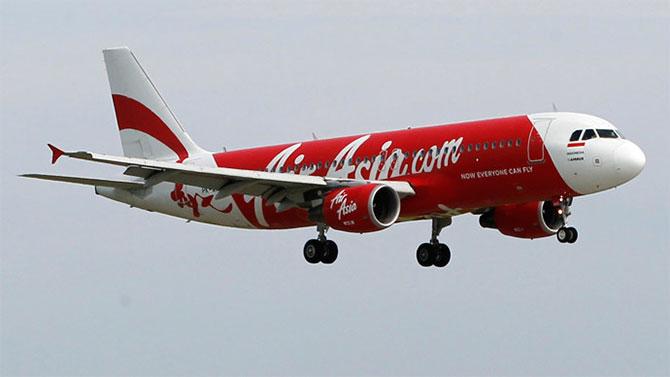 Both Vistara and AirAsia India, along with their partners, are quietly putting together an aggressive plan to become a formidable force in the skies.
At the core of this new push is their plan to go international this financial year.
Vistara recently received permission to fly abroad after a delay of over a year due to the investigation in the alleged bribing and lobbying charges against AirAsia India.
And AirAsia India is expecting to join the party (it asked for permission in January) so that it can fly abroad from September this year.
To back their plans, the Tatas, according to sources, have lined up Rs 4,500 crore for the two airlines.
If everything goes to plan, they would be the only player in India to straddle both the low-cost carrier as well as the full-scale service space in the international arena among private players.
Aviation analysts expect the two joint ventures to double their fleet to around 80 (Centre for Asia-Pacific Aviation has projected that Vistara would have a fleet of 32 but it has excluded the six planes leased from Jet recently) by April next year.
That would bring them closer to SpiceJet (which has crossed 100 planes) and substantially bridge the gap with ailing Air India (109 planes).
They also project that in the next two years, the two collectively would capture around 15 per cent of the domestic airlines market (from 10.9 per cent in April).
AirAsia India has already pulled the joystick.
It plans to double their fleet from 21 to 40 aircraft by April next year.
Sanjay Kumar, chief operating officer of the airlines, says: "We are targeting to get a market share of 8-9 per cent in the domestic market in the next two years.
"We will hopefully also double the number of flights per day by April. And will expand from 19 cities to 21-22."
The airlines are also for the first time focusing on corporate clients, and so flight timings have been changed for key routes like Delhi to Mumbai so that they have a morning and evening option.
On the international route, Kumar says, about 5 per cent of their capacity would be deployed in the first year, and gradually increased to 40 per cent in five years.
That would bring them in direct competition with IndiGo as well as SpiceJet and even their own partner company AirAsia as they would be flying on the same routes - Kuala Lumpur, Bangkok, Singapore followed by CIS countries as well as China.
The other joint venture Vistara will start with A 320 neos flying to short-haul destinations.
Yet long-haul destinations are equally important for the airline.
A Vistara spokesperson points out: "As we add more aircraft starting next year, such as the Airbus A 321 neo and Boeing B787 -9, we will further expand on medium- and long-haul routes."
With Jet out of the picture, Vistara is well placed to fill in the void in the European market as Air India is embroiled in its own financial problems and therefore not looking at expansion.
And if it decides to fly long-haul to the US, it would only have Air India to contend with.
The strategy sits well with SIA's ambition to have a larger share of the Indian market as well.
Despite Singapore being the second largest market for international passengers (7.7 per cent) to and from India, SIA is not even among the top 10 airlines in terms of passenger market share in the country.
That is because West Asia accounts for over 45 per cent of international passengers from and to India and SIA has no share in this market.
With Vistara, it will get an entry into this lucrative market and compete with the likes of Emirates, Etihad and Qatar Airways.
Also, seats between India and Singapore have already been exhausted from both sides, impacting growth despite a growing demand.
But once more seats are opened, SIA would be able to grab a part of this from both sides.
Then, there is the trump card in Air India.
With a new government in place, the terms for buying the state-owned carrier are looking more favorable and many analysts say that the Tatas might put in a bid.
Given Air India's vast reach and size, it could turn out to be a game winner for the Tatas.