'Earlier, when they were selling tickets at Rs 1,000, a family of five could travel by flight.'
'When it comes to realistic pricing and the price becomes Rs 5,000, a family of five will have shell out Rs 25,000.'
'How many will be able to afford that?'
'You will see people switching back to train travel which is more realistic.'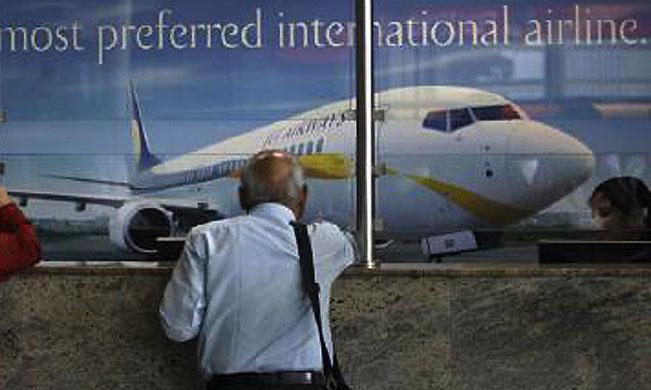 Every day, given the crisis facing the Indian aviation industry over shortage of aircraft and inadequate number of pilots, hundreds of flights are being cancelled, posing innumerable problems to passengers.
Nevertheless, through all this, fares are only going up even though it is still not the peak holiday season.
Is India's aviation sector going through a crisis? Will it come out of it?
Can passengers expect reasonable air fares?
"We sell tickets way below cost, thus bleeding the airlines. How long can an airline sustain losses?" Aviation safety expert and former Boeing 737 instructor pilot Captain Mohan Ranganathan, below, asks Rediff.com's Shobha Warrier.
According to reports, around 300 Jet Airways, 35 Spicejet and 30 Indigo flights are being cancelled daily.
Is the Indian aviation industry going through a crisis or is it part of a global phenomenon arising out of the grounding of the Boeing 737 MAX?
It is more of an Indian phenomenon for the simple reason that we want to show exponential growth because of political rhetoric, like we are the fastest growing aviation market and things like that. But they don't realise that our infrastructure has not progressed even 10% in the last 10 years.
So, we have over-capacity as we sell tickets way below cost, thus bleeding the airlines.
How long can an airline sustain losses?
Everything started with Deccan Airlines selling one rupee tickets. Then you saw airlines selling Rs 1,000 tickets even during the peak season. And they sold tickets months in advance.
Earlier, we saw such tickets being sold for a limited period.
After the market collapsed, banks stopped lending them money, so they started selling tickets at a very discounted price just for cash flow for day to day expenses.
You mean, without having a long-term plan? Or, is it a price war?
It is just for cash flow and nothing else.
They do this to pay the monthly bills and they keep on prolonging this practice. This is unsustainable.
What the government and the people don't realise is that when you order large number of planes, you get planes at a discounted price.
From the publicity angle, it is good to say I have ordered 200 planes while his competitor says, I have ordered 230 planes! This is more an egotistic game.
What happens is, they get planes at a discounted price, but then, they lease it back to a leasing company at a higher price. This is just to show profits.
The person who makes the money are the promoters and maybe a few in the top management team.
The Indian aviation industry had a great 2-3 years, but last year, it suffered losses. Is it due to the rise in crude oil prices or the rupee depreciating against the US dollar or the parking and landing charges?
Parking and landing charges are not much of an issue, but crude oil prices and the foreign exchange rate play a large role.
See, you are paying the leasing company in dollars and you are selling tickets in rupees. Naturally, you are selling tickets at a loss.
When your foreign currency market is fluctuating and oil prices are fluctuating, which is again in dollars, your losses keep mounting.
These airlines try to run a full service where your cost is much more while selling tickets way below the cost. You can't sustain like this.
Take for example, Indigo. Till they became a listed company, they were making profits. From the time they are listed, we see that they are running at a loss. You see numbers being played around as it is a numbers game.
Were the numbers fake? What is the truth?
Are the airlines going through bad times, or again, is it the image that they want others to see?
They are all going through a bad time.
Airlines make huge profits during the peak season, which is November to February. But when you sell Rs 1,000 tickets in the peak season, you know very well that times are bad and numbers being fudged.
If you are selling below cost during the holiday season, you are the loser.
You look at the international prices, you will see that from June-August, it will be very high. Again from November-January, it will be very high. That is because these are the peak season when airlines make money.
Here, when you see over capacity and you sell tickets at a lower price, you lose a lot of money.
Nobody is talking about lack of infrastructure.
They all want to fly only in the trunk route, but there is no parking space in Mumbai or Delhi or Bangalore or Chennai.
So, you park in a Tier 2 or Tier 3 airport and you have to fly these planes back to the main airport to commence commercial flights in the morning.
So, you run a dead schedule at night only because there is no parking space.
Is this confined to only the Indian aviation industry?
It is confined only to the Indian aviation industry.
You just compare it to what RyanAir or any such budget airlines is doing. Over there, they don't operate from the main airport. Even in the city, they operate from the second airport where the cost of operation is much lower.
Here, the only difference between a full-service carrier and a low-cost carrier is that they don't serve meals and meals don't cost much.
Otherwise, the leasing cost is the same, what you pay for the pilot and the crew is the same, the bribe you pay also the same.
You said airline prices were unsustainable. Now that fares have gone up by 30% and last minute fares by even 50% to 100%, consumers are complaining.
Do you feel fares are becoming normal now as what we saw earlier was unrealistic?
I would say it is slowly coming to realistic pricing because all these years, airlines were making a mistake of competing only the load factor.
There was a study conducted in the late eighties which showed that if the flight is less than one hour, the load factor has to be at least 90% to break even.
If the flight is more than 2 hours, the load factor can come down to as low as 60% to 70%.
You cannot alter the fact that you can't operate a high performance jet on a short sector.
When you increase the volume of traffic, you end up burning more fuel.
I will give you an example. Every tonne of extra weight, a 320 or 737 airline burns 400 kilos of fuel. And fuel is 45% of your cost.
So, when you sell even 10 tickets below cost, you are increasing the aircraft weight by 1 tonne, which means you are burning 400 kilos of fuel more every hour.
And if the aircraft is operating in 100 sectors, you are looking at 4,000 kilos of extra oil.
Air passenger growth which was in double digit figures in 2018 has come down to 5.6%. Do you feel when ticket prices reach a realistic level, growth will come down further?
Earlier, when they were selling tickets at Rs 1,000, a family of five could travel by flight. When it comes to realistic pricing and the price becomes Rs 5,000, a family of five will have shell out Rs 25,000.
How many will be able to afford that? You will see people switching back to train travel which is more realistic.
I think the growth rate will be in single digits and definitely not in double digits anymore.
Would you say what we see is a kind of churning process in the Indian aviation industry?
If the government has realistic and clear-cut policies, we will see improvements in the industry.
With a change in the government and ministry, you see changes in the policies. So, an investor will not be confident to pump in money.
Contrast this to what China is doing. They have a long-term policy for the aviation industry.
So, somebody who pumps in money knows that even though the return is low, in long term, he can recover. It is not like that here.
Most of the ills you see in the industry are because of the policies. These are made by, for example, a person who was an agricultural secretary before moving to the aviation ministry.
The moment he becomes aviation secretary, he becomes an expert in the aviation industry.
Policies are made by those who know nothing about aviation. Perhaps they are only interested in getting free travel for themselves and the family.
See, State Bank of India is taking over Jet Airways. They don't even know how to run the bank properly and now they want to run an airline!
It was reported that the combined losses of Spicejet, Jet Airways and Indigo is estimated to be around Rs 2,300 crores in the second half of 2018. Do you see any turnaround?
Unless the policies are changed, unless you have a long-term policy which cannot be changed with every change of minister or government, I don't see any turnaround.
Captain Mohan Ranganathan's photograph: Sreeram Selvaraj for Rediff.com