In signs of increasing differences, Jet Airways' winning bidder Jalan Kalrock Consortium on Tuesday asked the airline monitoring committee's authorised representative Ashish Chhawcharia not to issue any communication on behalf of the grounded carrier without approval of all the members of the committee.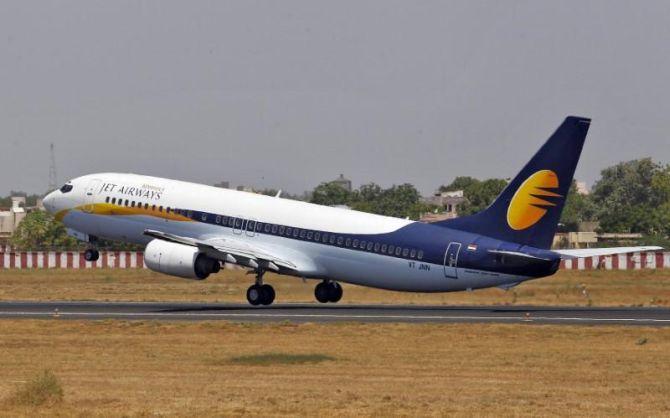 Amid the continuing uncertainty over the fate of Jet Airways, which shuttered operations in April 2019, the consortium on Tuesday wrote a letter to Chhawcharia.
The latest development comes more than a week after Chhawchharia reportedly shot off a letter to Sanjiv Kapoor, asking him to refrain from using the title of CEO as he was only a CEO-designate.
The affairs of Jet Airways are being currently looked at by a seven-member Monitoring Committee (MC).
Apart from Chhawcharia, there are three representatives each from the consortium and financial creditors, respectively, in the panel.
In the letter on Tuesday, the consortium has also sought a copy of the relevant minutes of the MC meetings in which the matter of CEO-designate Sanjiv Kapoor was "discussed and deliberated".
"We request you to forthwith share a copy of the relevant minutes of the Monitoring Committee meeting in which this matter was discussed and deliberated and/or a resolution was passed to issue such a letter to Kapoor," it stated.
The letter claims to represent all management committee members of the consortium.
"You (Chhawcharia) are advised to refrain from communicating on behalf of Jet Airways until authorised by all required members of the MC," the letter said.
The consortium has also requested Chhawchharia to act on matters which are authorised or otherwise approved by the committee jointly as authorised representative of the MC.
"In the event, there exists no MC resolution which authorises you to write to Kapoor, your letter under reference shall be considered as null and void," it said in the letter.
Chhawcharia could not be immediately contacted for comments.
According to the letter, Kapoor who received necessary security clearance from the civil aviation ministry in August 2022 is the CEO-designate for Jet Airways and thus requires no further approval from any statutory authority.
Moreover, Kapoor along with other employees continue on the payrolls of the consortium and will be transitioned to the payrolls of Jet Airways after the transfer of ownership to it, the letter said.
In October 2020, the airline's Committee of Creditors (CoC) approved the revival plan submitted by the consortium of Dubai-based Murari Lal Jalan and the UK's Kalrock Capital. In June 2021, the consortium's bid was approved under the insolvency resolution process.
However, the implementation of the resolution plan is facing headwinds.