The Jan-Dhan accounts are zero balance accounts, comes with a life cover of Rs 30,000 per person, and an accidental cover of Rs 100,000. An active user of the account can also get overdraft facility of Rs 5,000 from banks.
Illustration: Uttam Ghosh/Rediff.com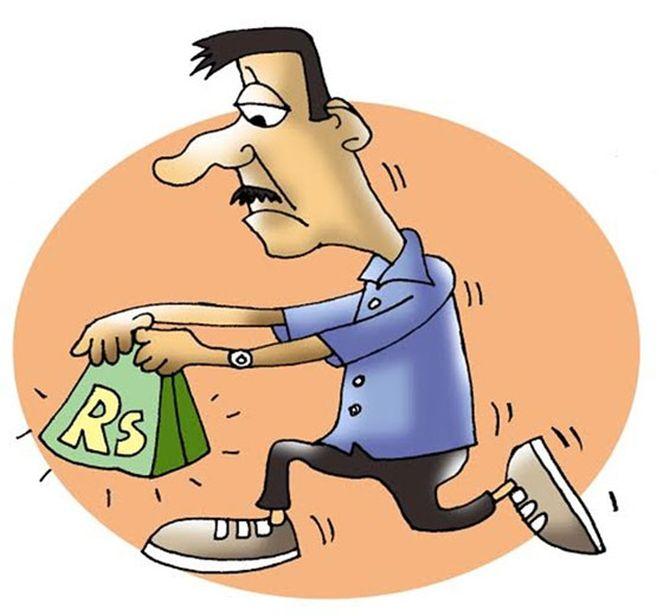 From the ramparts of the Red Fort in New Delhi on August 15, 2014, newly elected Prime Minister Narendra Modi declared war on financial exclusion.
He told banks to ensure that every household should have a bank account, and in addition, launched mass pension schemes, and micro insurance.
Five years now, under the Pradhan Mantri Jan-Dhan Yojana, 365 million accounts have been opened, 289.1 million Rupay cards issued, and more than Rs 1 trillion of deposits have been garnered under the scheme.
The scheme also entered the Guinness World Records for most bank accounts opened in one week - 18,096,130 between 23 to 29 August, 2014.
The Jan-Dhan accounts are zero balance accounts, comes with a life cover of Rs 30,000 per person, and an accidental cover of Rs 100,000.
An active user of the account can also get overdraft facility of Rs 5,000 from banks, it was announced.
Not only the scheme has managed to bring much needed financial discipline among the financially excluded, the middlemen have been cut to a large extent by enabling direct credit to the accounts of the various direct benefit transfer (DBT) schemes.
"Jan-Dhan Yojana has done extremely well for the banks. Financial inclusion was a very important goal of the government to move towards a cash-less economy.
"It has helped in direct transfer of subsidy from the government to the poor.
"The scheme set the tone for what happened subsequently like the demonetisation of Indian currency and later the rollout of Goods and Service Tax which has transformed the economy," said Ravneet Gill, CEO and MD of Yes Bank.
But there is a problem. While accounts have been opened, a major chunk of the customers have no clue what to do with it.
And bankers are not ready to take blame for it.
They maintain that they have done their part by racing against time in opening the accounts, and sent their business correspondents to every nook and cranny of the country to include the financially excluded.
Indeed, there are 1,260,00 business correspondents who are "delivering branchless banking services in sub-service areas," according to the PMJDY website.
According to Sameer Kochhar, chairman of Skoch Group, a think tank on socio economic issues, while the government deserves a great applaud for this financial inclusion drive, which increased saving habit as well as capital formation, the free accounts didn't really encourage a major chunk of the beneficiaries to take advantage of the scheme.
This is because of lack of adequate financial literacy.
"The regulators, both the Reserve Bank of India (RBI) of Securities Exchange Board of India (Sebi), have no clue about how to educate people about using financial product.
"And frankly, they had to take it upon themselves as banks really didn't even try to educate people," said Kochhar.
There are two kinds of credit that the financially excluded segment would want - livelihood credit, and consumption credit.
The livelihood credit is now being taken care of by the MUDRA scheme, which gives loans up to Rs 10 lakh without collateral to small time entrepreneurs.
But there is no consumption credit available to these account holders.
According to Kochhar, para banking products such as daily recurring deposits are also not offered by banks, nor there is any inclination to offer innovative products such as gold-linked deposit schemes, which the rural poor would understand better.
More often than not, the people imparting training for a rate of Rs 50 per head, hurry the account holders through a whole host of financial products, including equity products in just one sitting.
This makes using the banking channels, or even the digital facilities, a daunting task for the rural poor.
"There is no application of mind for a felt need. All the accounts are Aadhaar linked. All of them are genuine. Then why should there be non-operative accounts?" Kochhar said.
After demonetisation in November 2016, deposits in these accounts swelled.
It was assumed that the Jan Dhan accounts were used to park untaxed money, for a fee.
Analysts say this was unfounded, as even as the deposits jump 1.56 times after demonetisation, "the money didn't go back from the accounts by a whole lot as the total deposits have continued to rise at a decent pace in Jan Dhan accounts," according to a white paper in February by Skoch group.
But serious reforms need to be done to entice the customers to make full use of the accounts.
"Thus far the entire focus is through the prism of banking. The horizon should be expanded to include all financial services," the Skoch paper said.