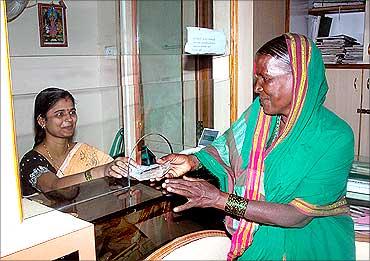 The Pradhan Mantri Jan Dhan Yojana scheme will help eradicate poverty and curb corruption at the grassroot level, industry said.
"It is an innovative and much-needed step in the right direction which will address the biggest national challenge eradication of poverty, through financial inclusion," CII Director General Chandrajit Banerjee said.
Prime Minister Narendra Modi on Monday launched his government's mega scheme 'Jan Dhan Yojana', declaring that it was aimed at eradicating financial untouchability by providing bank accounts to the poor.
On the inaugural day, a record 1.5 crore (15 million) bank accounts were opened across the country, the largest such exercise on a single day possibly anywhere in the world.
"The benefits under government's welfare schemes running into thousands of crores of rupees can be directly transferred to the beneficiaries' accounts. Huge pilferage in the middle will be eliminated," Assocham Secretary General D S Rawat said.
The plan seeks to give India's poor access to affordable financial services like savings account, easy credit and insurance, Banerjee said.
"The positive spin-off effects of extending financial services to the masses are multifold and would clearly impact the overall development trajectory of the nation," Ficci President Sidharth Birla said.
The key distinction from earlier designs is the introduction of a combination of savings, loans and insurance products. This would ensure most basic needs of beneficiaries are taken care of, Birla said.
"Linking financial literacy and direct cash transfer with this programme ensures demand inducement and sustainability of this model," Birla added.