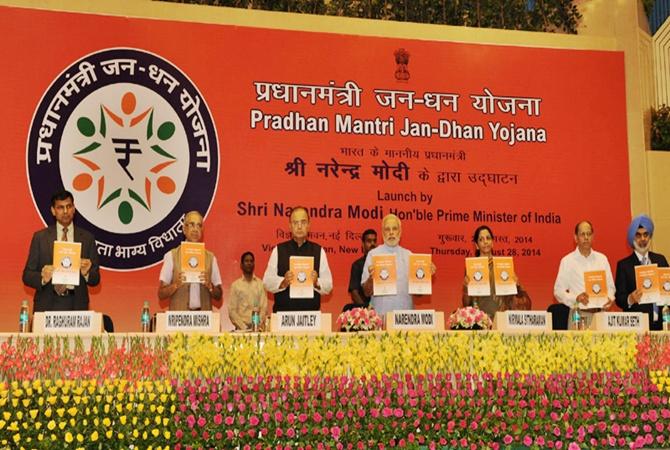 Prime Minister Narendra Modi releasing the Mission Document of the 'Pradhan Mantri Jan Dhan Yojana (PMJDY)' in New Delhi on August 28, 2014. Photograph: Courtesy, PIB
Prime Minister Narendra Modi on Thursday launched his government's mega scheme ' Pradhan Mantri Jan Dhan Yojana', declaring that it was aimed at eradicating financial untouchability by providing bank accounts to the poor.
On the inaugural day, a record 1.5 crore bank accounts were opened across the country, the largest such exercise on a single day possibly anywhere in the world.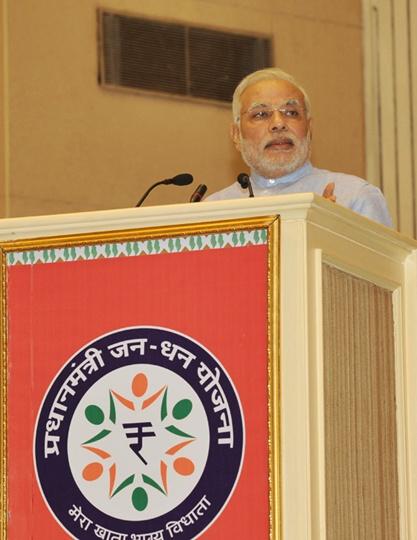 Prime Minister Narendra Modi addressing at the launch of the 'Pradhan Mantri Jan Dhan Yojana (PMJDY)', in New Delhi. Photograph: Courtesy, PIB
Unveiling the scheme within 100 days of forming the new government, Modi said, it will cover 7.5 crore people by January 26, 2015, who will be provided zero-balance bank account with RuPay debit card, life insurance cover of Rs 30,000 in addition to accidental insurance cover of Rs 1 lakh.
Later the account holders will be provided an overdraft facility of up to Rs 5,000.
"If Mahatma Gandhi worked to remove social untouchability, if we want to get rid of poverty, then we have to first get rid of financial untouchability. We have to connect every person with the financial system. And for that this programme has been given impetus," he said, adding, "when a bank account is opened, it's a step towards joining economic mainstream."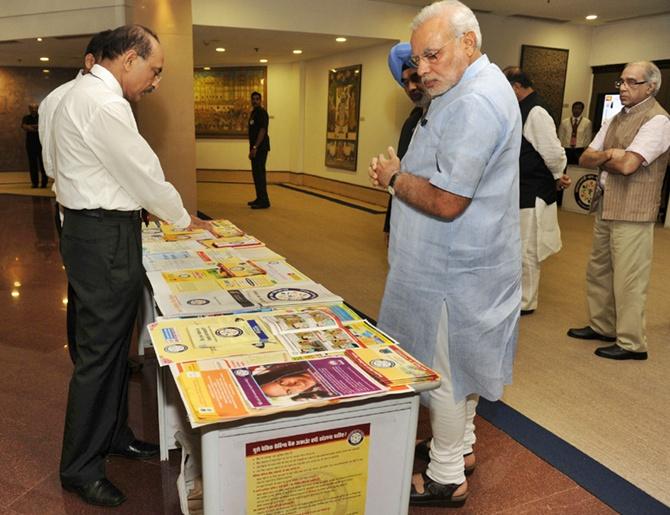 PM Narendra Modi at the 'Pradhan Mantri Jan Dhan Yojana (PMJDY)' launch - at the Exhibition on Technology and Financial Literacy, in New Delhi . Photograph: Courtesy, PIB
Modi recalled the bank nationalisation of 1969 with the avowed objective of spreading the reach of financial system to the doorsteps of poor. "But I regret to say that after 68 years of independence, not even 68 per cent of population is covered by the banking system," he said.
The scheme was simultaneously launched at multiple places by 20 Chief Ministers, several Union Ministers, including Information Minister Prakash Javadekar at Pune, Law Minister Ravi Shankar Prasad at Chennai, External Affairs Minister Sushma Swaraj at Bhopal, Home Minister Rajnath Singh at Lucknow and HRD Minister Smriti Irani at Surat.
There were in all 600 programmes and 77,852 camps were organised on the opening day to open bank accounts.
Modi said history has been created in the banking system with opening of over 1.5 crore account in a day. Besides, a record has been created by providing 1.5 crore accidental insurance covers of Rs 1 lakh.
The Prime Minister described the occasion as a festival to celebrate the liberation of the poor from a poisonous cycle ("Vish-chakra se gareebon ki aazaadi ka parv").
"Banks have assured me they will do this work before January 26. Those who open accounts by January 26, 2015 over and above the Rs 1 lakh accident cover, they will be given life insurance cover of Rs 30,000. This will help the poor family," he said.
In the third phase, he said, these account holders would also be provided micro-pension facility. "I believe when a person opens a bank account then he or she takes the first step to get connected with the economic system. Today the 1.5 crore family who got connected with the economic system this will give a boost to the economy," he said.
Going forward, he can avail Rs 5,000 loan from the bank, the Prime Minister said, adding, this facility would be available after six months of opening of the bank account.
Expressing satisfaction at a number of records being broken today, the Prime Minister said the nationwide success of the enrolment drive today would give confidence not just to the officials of the Department of Financial Services and banking sectors, but also to officers across the Union Government, that they can successfully achieve the goals that they set for themselves.
"Never before would insurance companies have issued 1.5 lakh accident insurance policies in a single day. Never before in economic history would 1.5 lakh bank accounts have been opened in a single day.
"Never before has the Government of India organised a programme of such scale – over 77,000 locations – with the participation of so many Chief Ministers, Union Ministers, government and bank officials," the Prime Minister said.
Modi said this mission would also help in fighting corruption by plugging leakages in the government subsidy scheme, he said. He further said it is easy for the rich to get a loan at low interest rates but the poor are forced to seek loans from money-lenders at five times the rate charged to the rich.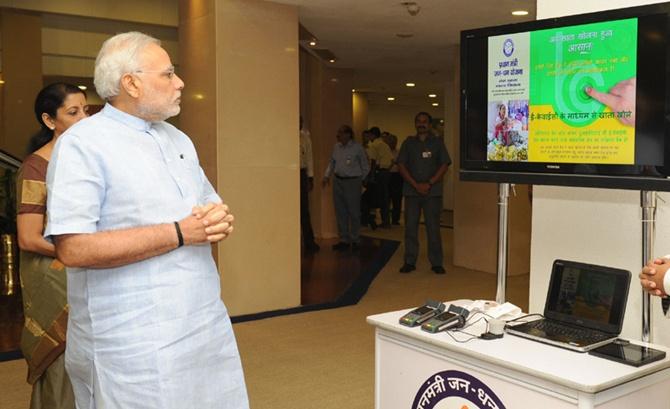 "Is it not the responsibility of the banking industry to provide banking access to the poor?" the Prime Minister asked.
The Prime Minister illustrated his point through the example of a mother saving money and being forced to hide it somewhere within the house. He said the bank officials who have opened an account for such a mother today, would get blessings.
He said a breakthrough was required to overcome the vicious cycle of poverty and debt, and that breakthrough had been achieved today. He said there were similarities between the poor getting access to mobile telephones, and getting access to debit cards. They both had the effect of instilling confidence and pride among the poor, he added.
Now, the poor would be able to do normal bank transactions through non-smart phone as well because of introduction of new technology introduced by National Payments Corporation of India (NPCI).
A person can transfer funds, check balance through a normal phone. However, this facility was limited only to smart phones so far.

While the existing banking network would be geared up to open bank accounts of the uncovered households in both rural and urban areas, the banking sector would be expanding itself to set up additional 50,000 Business correspondents, more than 7,000 branches and more than 20,000 new ATMs in the first phase, he said.
The Prime Minister said with the launch of this mission, there has been transformation. Now the bank is coming to one's doorstep for opening of bank account instead of closing of account.
Narrating his personal account, the Prime Minister said he got a bank account opened in his school with Dena Bank which remained inactive for 20 years as he had little money to deposit in the account.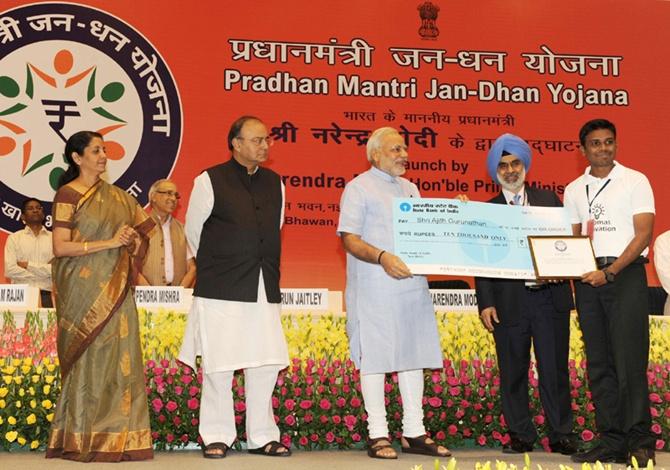 Prime Minister Narendra Modi presenting the award to Ajith Gurunathan for suggesting the name 'Pradhan Mantri Jan Dhan Yojana (PMJDY)', in New Delhi. Photograph: Courtesy, PIB
So, the bank officials kept making rounds of his house to get the account closed as they had to carry out operational procedures year after year, he added. Meanwhile, Finance Minister Arun Jaitley said around 58 per cent population in the country have bank accounts.
"In simple words it means still there are 10 crore families that are away from banking services as they do not have access to banking services, they are also deprived of means of savings," he said. The ultimate motive of this scheme is that no family should be deprived of this service, he added.
The Finance Minister said mobile banking for the poor would be available through National Unified USSD Platform (NUUP) for which all banks and mobile companies have come together. Normal bank transaction can be done through any phone across the country, he added.