India's external firewalls are solid in the form of a healthy reserve position.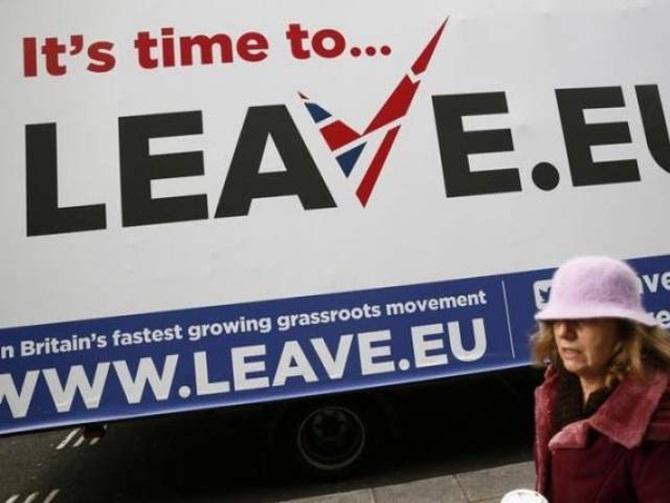 IMAGE: India's trade is not going to be impacted significantly. Photograph: Reuters
Seeking to allay concerns over Brexit impact on India, the government on Friday said the economy has enough "firepower" to deal with the situation, even as stocks and the rupee took a massive plunge.

India is well prepared to deal with the outcome of Britain's referendum on leaving the European Union, Finance Minister Arun Jaitley said on Friday, highlighting his country's stable economy and strong reserves position.
"We respect the referendum's verdict," Jaitley said in a statement.

"At the same time we are also aware of its significance in the days ahead and also for the medium term."
Jaitley said that India was strongly committed to macro-economic stability, while its fundamentals were sound with "a very comfortable external position, a rock-solid commitment to fiscal discipline and declining inflation."
Further, he said that India's external firewalls were solid in the form of a healthy reserve position.
Stating that the government and the Reserve Bank of India (RBI) have been "working" on possible eventualities over the last several weeks, Economic Affairs Secretary Shaktikanta Das cited India's domestic fundamentals as the reason the country will not suffer from any long-term impact of Brexit.
With comfortable foreign exchange reserves, inflation coming down and structural reforms on path, India will be able to deal with all eventualities, he said soon after stocks markets and rupee dropped on results from UK referendum on EU membership showed the "leave" camp doing better.
The government, he said, was "prepared for all eventualities."
In a historic development, the UK has voted to leave the European Union after 43 years as the 'Brexit' camp took a seemingly unassailable lead over the 'Remain' camp in a down-to-wire referendum with far reaching implications for the world.
Consequently, the benchmark BSE Sensex tanked by over 1,050 points while the valuation of all the listed companies lost almost Rs 4 lakh crore. The rupee also broke below the 68-level after plunging 96 paise against the US dollar.
"As far the as the stock markets are concerned it is initial spontaneous kind of sudden reaction because something which is happening goes beyond their expectation. This is a instant reaction that they have shown.
This reaction over the next few days I think should stabilise and markets hopefully will improve," he said.
Das, who did not travel to Beijing to overseas reaction to Brexit leading to postponement of India-China financial dialogue to July, said the depreciation of the Indian rupee was in line with other Asian currencies.
"You know the pound sterling has been depreciating so all currencies have been depreciating," he said.
Finance Ministry and RBI "have been working on this and we have discussed all possible eventualities, outcomes of the Brexit over the last several weeks. We are prepared to deal with the situation that is emerging today," he said.
With $360 billion in foreign exchange reserve with RBI, India's position "is very sound and solid."
"We have enough firepower to deal with the situation. And the fire-power will be used judiciously in a manner that we maintain stability if our economy," he said.
While Finance Secretary Ashok Lavasa said the government and RBI are ready with measures to curb volatility, Banking Secretary Anjuly Duggal stated that Brexit will not impact India in medium or long term.
Stating that macroeconomic fundamentals are strong, Das said current account deficit is at an all-time low of 1.1 per cent, fiscal and revenue deficits are under control and inflation is by and large under check.
The government will continue with structural reforms with some of the agenda being expedited, he said.
"We are prepared to deal with the situation. And as I said the firepower that we have to deal with the situation will be used judiciously," he said adding the government and RBI had been "working on this fire-wall for the last several months and the fire wall to withstand all the external pressures."
Asked when the government plans to use the firepower to contain fall, he said, "this is only a matter of strategy we cannot add detail to that."
On impact on exports, he said India's trade is not going to be impacted significantly. "The impact would be very marginal."
On foreign exchange rate, Das said the government was in touch with RBI. "The Finance Minister, who is Beijing, is constantly and regularly monitoring the situation and whatever direction Finance Minister has to give, he is giving at regular intervals and frequently."
Asked about fall out of the referendum on FTA with UK, he said, "We will have to take a view on such issues."
On challenges Brexit posed to India, he said all challenges would have opportunities.
"Some analysts say that oil prices will fall following Brexit. So when oil prices decline, Indian economy benefits. We have to deal with both problems and opportunities. The government will take a considered view. India will withstand the situation. We are prepared to deal with all eventualities," he added.