India Inc says way forward is for Modi govt to work with other political parties to get bills passed.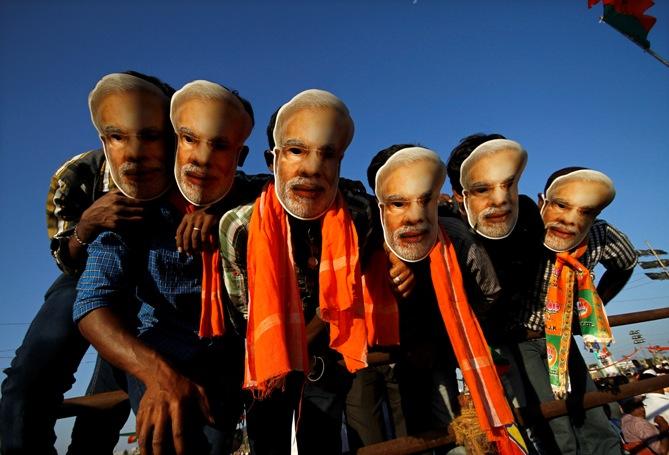 With the Bharatiya Janata Party's defeat in Bihar's election, India Inc leaders say it's time for the Narendra Modi government to look forward and press the pedal on economic reforms.
In the process, they said, it must take the help of all political parties to get important economic bills, such as the one on a national goods and services tax, passed by Parliament.
"The election is a lesson for both Congress and BJP that they not be vitriolic and not pursue divisive politics. At the same time, the Congress should not oppose bills in Parliament," said Kiran Mazumdar-Shaw, chairperson and managing director of Biocon.

"They should learn the electorate wants economic development and not divisive politics. It also shows that PM Modi has got the mandate nationally and he should focus on nation building."
Says S Gopakrishnan, a co-founder of Infosys Technologies: "With the elections behind them, the government should focus on growing the economy."
Analysts say the results will not have much impact on the composition of the Rajya Sabha, where the BJP does not have the requisite numbers to get crucial bills passed. Bihar currently accounts for 16 of 244 seats in the house.
Of these, five are currently with the Janata Dal and will be up for re-election in 2016 and 2018. Therefore, a win or loss for the BJP is unlikely to change its bargaining power in the house in any meaningful way.
Therefore, from a numbers perspective, said global financial house Nomura, the importance of the Bihar elections is overstated.
Beyond the immediate reaction, the direction or pace of economic reforms will not change dramatically in the coming year.
Nomura added that it expected incremental economic reforms to continue, irrespective of the election result.
Business leaders agreed with this analysis. "The Modi government has kept the pace of reforms on track and I do not see any slowdown in economic reforms," said Venugopal Dhoot, chairman of the Videocon group.
However, RPG group chairman Harsh Goenka said the Bihar results weren't good news for the development agenda. "Hopefully, the fringe and intolerant elements within the ruling party will now be reined in," he said.
The mood among other chief executives was nervous, with most of them predicting a fall in the stock markets when these reopened for business on Monday. They believed jittery investors were likely to dump shares, fearing economic reforms would get stalled.
"Let's hope the government and the opposition will sit together and clear key economic bills or we are in for a stormy winter session of Parliament," said one chief executive, who declined to be named.