Software services industry may have to relook its cost structure to maintain a higher margin.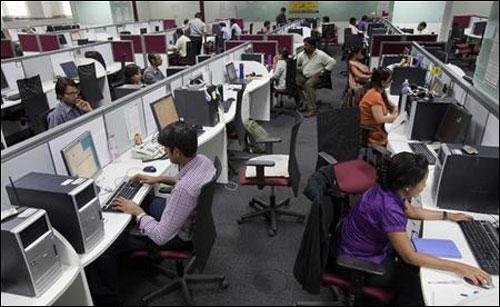 The $108 billion Indian IT services industry is bracing for tough times ahead as potential visa restrictions add to their troubles such as a shift towards automation and pressure on margins in traditional services.
Technological disruption and faster-than-expected adoption of technologies like artificial intelligence, robotics and the cloud platform are other major challenges for the industry.
All this is forcing Indian IT companies, which generate over two-thirds of their revenue through exports to the US and Europe, to review their cost structure to maintain higher margins.
The fourth-quarter ISG Index shows record high values for as-a-service offerings and a declining market for traditional sourcing.
It reports the traditional sourcing market declined 25% year on year and 8% sequentially to $5.2 billion.
Compared to this, the as-a-service market grew 38% year on year to $4.4 billion.
Tata Consultancy Services, Infosys, Cognizant, Wipro, HCL Technologies and Tech Mahindra have admitted to this shift and it is evident in their third-quarter results. The sector must also grapple with an uncertain regulatory environment in the US and Brexit.
This double whammy is likely to increase the cost of services delivery, putting margins at risk. Tech Mahindra has deferred an appraisal cycle for employees with more than six years of experience and Infosys may abandon its annual forecast.
Measures like these are short-term fixes, says Pareekh Jain of HfS Research. "What long-term strategies Indian firms adopt to offset these challenges are something to be seen," he adds.
One set of analysts believes it is time for TCS and Infosys to forgo high margins. "The cost of delivery is going up; you have an increasing visa fee regime and new technologies that necessitate presence of talent at the client end," says an analyst.
"The moment the H1-B visa issue it starts impacting US firms they will ramp up lobbying efforts with Congressmen. In the worst case scenario, outsourcing might just go up as completed projects are moved to India or other offshore centres. The bigger issue is technology shift," says Hanuman Tripathi, an angel investor.
Indian firms are seen as taking away jobs from Americans and judicial probes on visa violations by Infosys and TCS add to the perception. Last year, TCS was slapped with a penalty of $940 million for IP violation.
"The industry is passing through an uncertain time, given the technology disruption and automation. Any wage hike for H1-B visa-holders will add to margin pressure. Indian players will have to embrace digital technologies to offset political uncertainty in the US," says Dinesh Goel, India partner at research firm ISG.
An executive order on immigration laws on a wage hike for H1-B visa-holders cannot be ruled out. A Bloomberg report last week said the Trump's administration had drafted an executive order seeking to revamp the work-visa programmes for technology companies.
Image used for representational purposes only.