Income velocity based on currency with the public went down from 0.93 in October to 0.84 in March says a report from SBI's economic research department
Illustration: Uttam Ghosh/Rediff.com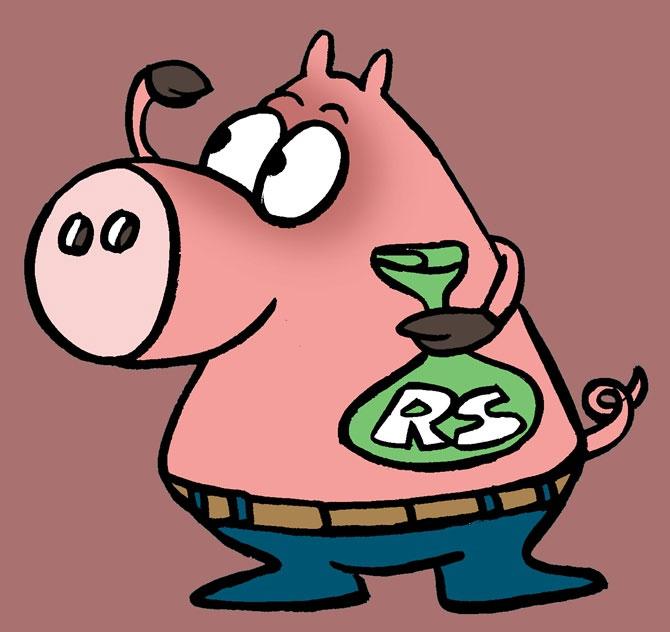 Why are cash shortages being reported in several states, despite data showing a rise in currency with the public?
A possible explanation for this conundrum is that cash is being hoarded by the public.
One way to examine if this is true is to look at income velocity, the rate at which money changes hands.
The Reserve Bank of India (RBI) routinely publishes three estimates of this, based on M3 (broad money), M1 (narrow money), and currency with the public.
But, these are yearly estimates. The most recent ones show income velocity based on currency with the public rose to 10.97 in 2016-17, up from 9.28 in 2015-16.
Now, a report by Soumya Kanti Ghosh, group chief economic advisor at State Bank of India (SBI), estimates that at the national level, income velocity based on currency with the public went down from 0.93 in October to 0.84 in March.
This, the report says suggests that "currency of higher denomination/Rs 2,000 is not getting adequately circulated in the economy".
Based on this data, income velocity declined to 9.55 at the end of 2017-18, from 10.97 in 2016-17.
Now with currency with the public, as a percentage of total currency in circulation, reaching 96 per cent, it shows an adequate amount in circulation.
So, this fall in income velocity suggests hoarding of cash by the public say economists that Business Standard spoke to.
While state-wise estimates are difficult to get, the SBI report says its "internal estimates suggest that in Bihar, Gujarat, and the southern states, the income velocity is far less than the national average.
The other states have also started facing issues, as there has been a 'domino effect', whereby any possible tendency to hoard cash might have spread".
However, there are issues with the report's estimates.
For one, as monthly gross domestic product (GDP) numbers are not available, the SBI report assumes quarterly GDP is spread equally across all months. Second, the fourth quarter (January-March) GDP estimates are derived from projections in the second Advance Estimates.
How ATM, PoS transactions stack up in post-DeMo era
The number of ATMs in the country peaked in July 2017 and has been in decline ever since
ATM transactions
Monthly ATM withdrawals, both in terms of volume and value, are back to pre-demonetisation levels since July 2017 and have remained around these levels since then.
The number of ATM withdrawals for February 2018 was 71.9 crore, of total value amounting to Rs 247,800 crore.
Number of ATM terminals
A total of 1,700 ATMs have been added since post-demonetisation period. The number of ATMs in February 2018 stood at 220,000, 385 units more than those in February 2017.
The number of ATMs in the country peaked in July 2017 and has been in decline ever since.
Point-of-sale terminals
The number of point-of-sale (PoS) terminals have doubled from 15 lakh in October 2016 to over 30 lakh in February 2018
This rise in PoS terminals can be attributed to the sharp additions made in the months immediately following demonetisation
However the additions have dropped significantly since then.
POS additions during February 2018 did not match even 10% of the additions from December 2017 to March 2017.
Stagnant PoS transactions
While the number of PoS terminals has gone up, PoS monthly transaction, both in volume and value is roughly the same as the pre-demonetisation level
Barring the spike in December 2016 due to demonetisation, PoS transactions have remained stagnant in the 14 months since then
POS deployment was slowed down because banks realised that a lot of POS terminals were inactive after installation, said Industry experts.
POS redeployment is being undertaken to boost transactions and should reflect in the following months.