'We should look at is full year's growth rather than quarter numbers.'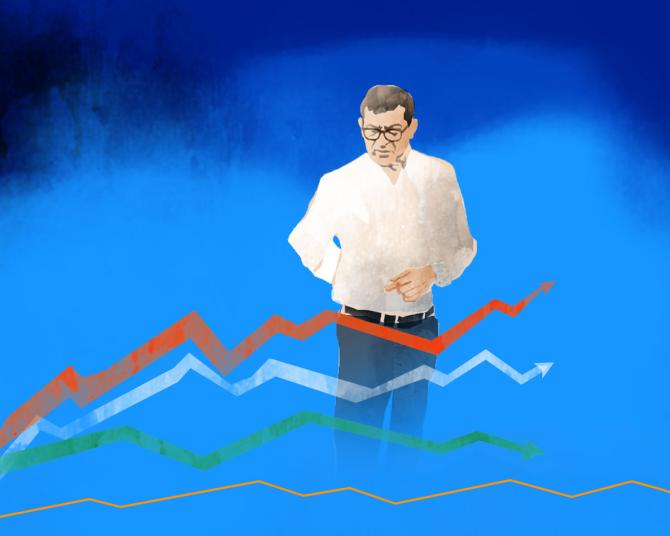 Is former Reserve Bank of India governor Raghuram Rajan right in his assessment that India's economy is 'dangerously close' to the Hindu rate of growth?
According to the International Monetary Fund, India will be the world's fastest growing large economy in 2022-2023 and along with China, it will constitute half of the world's growth next year.
Rajan based his assessment on the quarterly gross domestic product data released by the National Statistics Office, which showed that the economy grew just 4.4 per cent during October-December of the current financial year against 6.3 per cent in the previous quarter (July-September).
In an interview to PTI, Rajan said the latest October-December Indian GDP numbers suggest slowing growth as compared to the heady numbers in the first half of the year.
The economy grew 13.2 per cent in the first quarter and 6.3 per cent in the second.
He also said the average annual growth of the October-December quarter relative to the similar pre-pandemic quarter three years ago is 3.7 per cent.
'This is dangerously close to our old Hindu rate of growth! We must do better,' Rajan said.
He said the RBI projects an even lower 4.2 per cent growth for the last quarter of this fiscal.
Rajan's apprehensions are based on a quarter, or a couple of quarters, at a time when there has been a slowdown the world over due to the Russia-Ukraine war and when the central banks' stance has been to raise interest rates.
"I have a different view on the low growth syndrome expressed by the ex-governor of RBI," said Bank of Baroda Chief Economist Madan Sabnavis, adding, "What we should look at is full year's growth rather than quarter numbers as the latter will be subject to statistical effects and only partly capture the picture."
Even if you go by quarterly numbers, the RBI has good numbers, which start high and taper down for FY24 (7.8 per cent in Q1 to 5.8 per cent in Q4, which averages 6.4 per cent), he said.
"Therefore, to say that there is stagnation at a low level is not right in my view," Sabnavis added.
Even though issues of consumption and investment dominate our set of challenges, international agencies have maintained that India will grow at six per cent-plus next year.
"So the view that we are back to a 40-year path does not seem appropriate," Sabnavis said.
Rajan had said, 'I am worried that earlier we would be lucky if we hit 5 per cent growth' (for 2023-2024).
The latest October-December Indian GDP numbers suggest slowing growth from the heady numbers in the first half of the year.
Sabnavis said "by that rationale, will we say that the US, UK, Japan etc are also witnessing historical growth stagnation rates of 3-3.5 per cent that India saw in the 1980s?"
According to IMF's projections, India will be the fastest growing large economy in 2022-2023, even as its forecast of 6.8 per cent is lower than the 7 per cent in the advance estimates (first and second).
In a recent update of its flagship World Economic Outlook, the IMF said India and China will account for half of the global economic growth in 2023.
The IMF has projected India's economic growth at 6.1 per cent in 2023-2024 and 6.8 per cent in 2024-2025, higher than any other large economy.
ICRA Chief Economist Aditi Nayar said a more meaningful gauge of the momentum of growth would be the comparison with the respective pre-Covid quarters.
"On this metric, growth improved sequentially in Q3FY23, even though it did lag our forecasts," she said.
Compared to pre-Covid levels of FY20, GDP growth rose appreciably to 11.6 per cent in Q3 FY23 from 9.4 per cent in Q2 FY23, indicating an improved albeit uneven recovery, she added.
What is 'Hindu' rate of growth
The term Hindu rate of growth was first used by the late economist Raj Krishna to refer to the low rate of economic growth in the pre-liberalisation era. The economic growth averaged around 3.5 per cent a year between the 1950s and 1980s. Per capita income growth also averaged just around 1.3 per cent.
The low growth rate was attributed to the socialist policies of state control and import substitution. That changed when the Licence Raj was eliminated and with export promotion in 1991, when India faced a balance of payments crisis.
In one of his lectures, Raj Krishna had said '... no matter what happens to the economy, the trend growth rate in India will be 3.5 per cent.'
The term was later used by some economists to link the low growth rate between the 1950s and 1980s to Hindu beliefs of Karma and Bhagya.
However, liberal economists later rejected this connection and instead attributed the low growth rate to the then governments' protectionist and interventionist policies.
Feature Presentation: Rajesh Alva/Rediff.com