Piyush Goyal has begun his term as railway minister with characteristic energy, but not all his new initiatives are being praised, reports Shine Jacob.
Illustration: Dominic Xavier/Rediff.com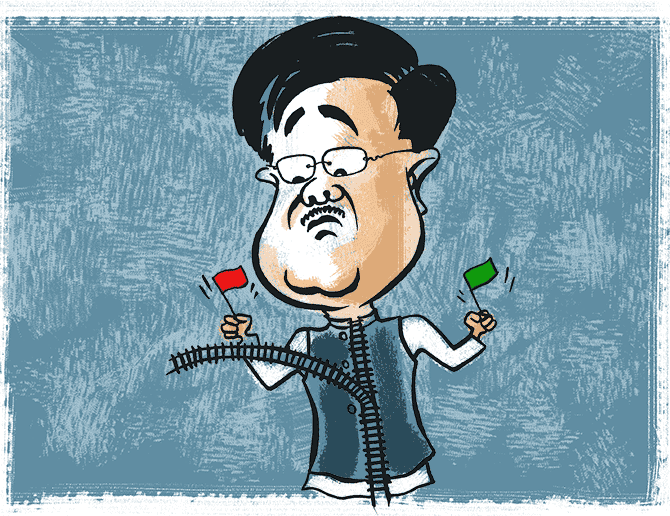 On October 5, Rail Bhavan in Delhi hosted a meeting of newly minted Railway Minister Piyush Goyal with the who's who of the Indian realty sector -- including the Tata group, Shapoorji Pallonji, GMR, Essel Group and L&T.
What followed was a sweeping change: The Railway Board cancelled tenders for 23 railway stations and changed the norms of the re-development policy to attract Rs 1 lakh crore worth of private investment.
The October 5 meeting was probably a trailer to the Goyal era of brisk activity, a replica of his style of functioning in his previous post in the power ministry.
The new railway station development template proved the harbinger of several other key changes -- a Railway Board reshuffle, a tweak in non-fare revenue policy, and the mergers of OneICT, an integrated digital railway platform, and the Transformation Cell with other departments.
Is the new minister simply reversing Suresh Prabhu's legacy?
Critics think so, but Goyal, who assumed office on September 3, insists he is simply carrying forward his predecessor's agenda by focusing on implementing it.
The question, then, is whether he can actually bring about the transformation about which Prabhu spoke frequently and eloquently.
The new norms for station tenders are a good starting point.
Under the new terms, Goyal explained, developers will be able to mortgage land and raise capital.
To maximise value, the lease period has also been increased to 99 years.
The ambitious plan, to cover 400-odd stations, will now allow 20 per cent of the redeveloped area to be used for residential purposes, with the remaining 80 per cent reserved for commercial purposes.
Though this concession looks attractive on paper, industry experts like Abhishek Kiran Gupta, founder of CRE Matrix, thinks heavy traffic, noise and railway movement are unlikely to make the residential allotment clause lucrative for buyers.
Goyal, however, claims that the new norms were framed in the context of the tepid response to Prabhu's redevelopment scheme for 23 stations, and after holding discussions with more than 250 real estate players country-wide.
"Out of the 23 stations, only Kozhikode and Jammu received active bids, which prompted the board to have a relook at the policies," said S K Lohia, managing director and chief executive officer of the Indian Railway Stations Development Corporation, which Goyal appointed as the nodal agency for the project.
Even if the industry-friendly nature of these changes were mostly welcomed, the merger of One-ICT directorate and Transformation Cell with other departments has met with some disapproval.
The Rs 5,000 crore (Rs 50 billion) One-ICT was to come up with integrated software that would have brought various functions of the railways, such as passenger reservation, movement of goods trains, asset management and the entire functional requirements of the national transporter, under one ambit.
On the other hand, the Transformation Cell was created to work on ideas mooted by employees during the Rail Vikas Shivir held in November.
A railway official claims the merger makes sense as departments like mobility and technology teams are already working on such initiatives.
Though yet to be confirmed officially, the plans to change clauses of key non-fare initiatives -- like doubling the contract period for the rail display networks (RDN), content-on- demand and out-of-home (OOH) advertising -- have attracted widespread criticism.
"Changing the contract period for RDN from 10 to 20 years would not be a wise decision because most of the display technologies are dated in five to seven years," said a former Railway Board member requesting anonymity.
The change in policies on existing bids, he added, may delay the process by six to eight months.
"Normally, such changes on all the policies happen during a change of government. If there is no policy stability, that may also dissuade industry from investing,": he pointed out.
Of the expected incremental revenue of Rs 34,350 crore (Rs 343.50 billion) expected from non-fare income in the next 10 years, Rs 14,250 crore (Rs 142.50 billion) was expected to come from RDN, Rs 6,000 crore (Rs 60 billion) from content-on-demand and rail radio, Rs 3,750 crore (Rs 37.50 billion) from integrated mobile application for advertising, cab services and so on and Rs 3,750 crore for OOH initiatives.
Meanwhile, Goyal terms safety as his priority with "unlimited funds" allocated for it.
In what can be called a stimulus for safety-related works, the minister hinted that the Rs 1.19 lakh crore dedicated safety fund will be spent in two years instead of the original five year timeframe.
This is considered a vital initiative given the recent spate of railway accidents.
To speed up safety-related work, Goyal also announced that the Railway Board would be restructured and staff at the Rail Bhavan headquarters downsized.
Now, general managers, divisional railway managers and field officials have been delegated greater financial and administrative powers to improve overall efficiency.
Goyal's words to describe this initiative are a variation of Spiderman's famous line: 'With more powers comes more responsibilities.'
That could apply to the ambitious new minister too.