How has the note ban affected newspapers and the rest of the media?
Vanita Kohli-Khandekar finds out.
Illustration: Dominic Xavier/Rediff.com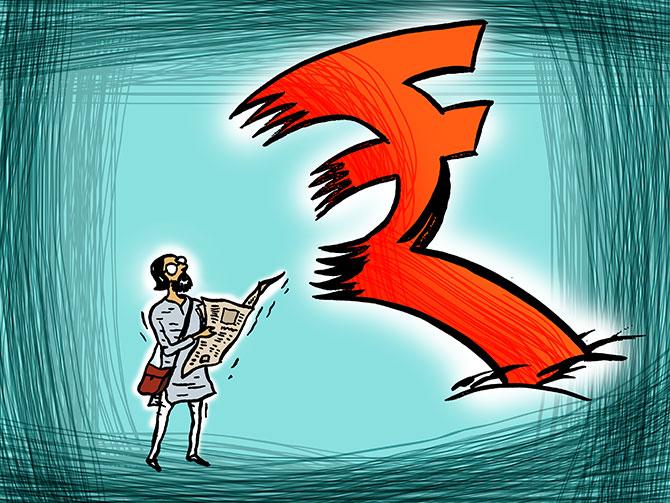 Is demonetisation the villain in Indian media's growth story?
On Monday 9, the Rs 2,655 crore (Rs 26.55 billion) HT Media's Hindustan Times shut down seven of its editions, in Kolkata, Bhopal and Ranchi, among other cities. It has let go of dozens of people in the past few weeks.
When the Brihanmumbai Union of Journalists condemned what it termed an 'illegal decision', Vineet Jain, managing director of its arch-rival, the Times Group, tweeted, 'I support HT. Wage board and demonetisation is hurting print industry. Print needs zero rating in GST.' HT Media Chief Executive Rajiv Verma did not respond to repeated requests for an interview.
Many newspapers are cutting print runs, reducing pages, holding recruitments and cutting non-essential expenditure.
Other media owners and managers are more circumspect.
"We are not cutting anything as of now. We are seeing how it plays out," says Jayant Mathew, director, Malayala Manorama, which is into both print and TV.
"Demonetisation affects us as much as it affects any of the other broadcasters. And, because we get the largest share of advertising, we get more affected," says Uday Shankar, chairman and chief executive officer of the Rs 11,000 crore (Rs 110 billion) STAR India.
"Though November was alright," he says, "the big consumer goods advertisers have completely stepped back in December. It is difficult to quantify, but all the big broadcasters are likely to take a 30% to 40% hit on ad revenues in their entertainment business."
"Given the volatility, it's difficult to project the top line for FY17 with certainty," Shankar adds.
"Demonetisation hit us in November/December because some of the biggest categories that advertise on print -- real estate, jewellers, retail -- were hit. Almost all, except real estate, have recovered," emphasises Sivakumar Sundaram, president, revenue, Bennett, Coleman & Company. It is the publishing arm of the Times Group.
"There was an overall impact in November/December, especially on our radio business. But, by end-December, it had improved significantly. There has been some cost rationalisation, some pages have been cut, some costs have been deferred," says Kaacon Sethi, chief marketing officer of the Rs 2,079 crore (Rs 20.79 billion) Dainik Bhaskar Group.
Mathew reckons that "Demonetisation is just a trigger. We (the media industry) need to introspect."
Analysts agree. 'Over the past three, four years, publishers have missed ad revenue forecasts. With limited control over ad growth, several print media players have focused on cost optimisation to protect profit growth,' says Jaykumar Doshi, Kotak Institutional Securities.
'Publishers are likely to further fine-tune cost structures in view of near-term weakness in advertising, following demonetisation,' Doshi adds.
For the second half of FY17, it has predicted ad growth of 0% to 5% against 10% to 18% for some of the listed media firms it covers -- DB Corporation, Jagran and Zee, among others.
The exact impact depends on the state of each segment in India's Rs 115,700 crore (Rs 1.157 trillion) media and entertainment (M&E) sector.
Take print. In the 10 years ending 2015, while print doubled in size, its share fell from 31% in 2005 to 21% of the M&E industry.
In 2005, both TV and print were showing a compounded annual growth rate (CAGR) of 13.8%. Today, print's CAGR stands at 7.6% and TV's at 14.2%.
For four years, the Indian print industry has not had a proper metric for readership because of publishers' squabbling. This even while readership for some languages fell and circulation stagnated.
That and digital had already weakened revenue growth, especially for English publishers. For instance, "HT Media has been talking about cost rationalisation for two quarters now, if you look at analyst call transcripts. HT's margins have been in decline for some quarters," says one analyst.
Even before demonetisation, costs needed to be rationalised. The event forced publishers to act.
Sundaram reckons that print companies, grappling with digital, need to have a handle on costs because revenues are way lower.
Total digital ad revenues put together are about one-fifth the print industry's size in India.
Note that this slowing of growth has come in a market with huge room for growth.
There are 301 million newspaper readers against about 895 million literate people and the industry has very healthy cash flows, point out analysts.
Ditto for entertainment television, films and the rest.
Except for news TV, which has been a financially difficult business traditionally, most other segments should be able to take the shock well, say analysts.
The segments which depend on pay revenues -- theatres (PVR, et al) or DTH -- will be able to weather it better than those dependent on advertising.
'We expect ad growth to recover to the 5% to 10% range in the fourth quarter as liquidity eases. The ad outlook beyond three to six months of demonetisation hinges on volume-led recovery in rural consumption,' says the Kotak report.