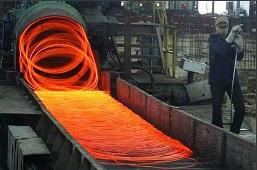 The Centre for Science and Environment, a non-government organisation based here and promoting sustainable development, on Monday exposed major inefficiencies in the performance of India's iron and steel sector.

In a detailed rating, which took two years to compile, of the country's 21 top steel makers, it found a general inefficiency in resource usage, widespread pollution and violation of environmental norms, among other deficiencies.

The companies, each having at least 500,000 tonnes of annual manufacturing capacity, were rated on 150 parameters, such as technology, process efficiency, pollution, occupational health and safety, and compliance with regulatory norms.

Among the worst performers were Bhushan Steel's Dhenkanal plant, Monnet Ispat and Energy Ltd and the IISCo Burnpur plant of public sector steel major SAIL.

The relative best performers (their overall rating on the CSE scale was 'average') included the Vizag steel plant of Rashtriya Ispat Nigam Ltd, Essar Steel's Hazira plant and Ispat Industries' Raigad plant.

"The poor environmental performance of this sector is a measure of the failure of the regulatory institutions in the country.

"Nobody is asking this sector to improve its green bottom-line. Nobody is measuring and monitoring its actual performance," said Sunita Narain, director-general of CSE.

According to CSE, the steel sector's energy consumption of 6.6 Giga Calories per tonne of output is 50 per cent higher than the global best practice. Process water consumption was 3.5 cubic metres per tonne, over three times the global best practice.

"The large-scale plants were found to be highly wasteful on land.

"If all the residual land with steel plants was to be properly utilised, the industry can produce more than 300 mt of steel (annually) and not the 75 mt it is producing today.

"Most steel plants were found to be non-compliant with pollution norms,"
it said.
Narain also pulled up SAIL for refusal to make efficiency disclosures.
"In disclosures, SAIL has been severely wanting. The company is not willing to share even basic information in a sector that is grossly inefficient," she said.
The comment immediately drew an angry response from the government-owned steel maker, which rejected the accusation.
"Every month, we are sending information on our performance to pollution control boards which are the statutory authorities for seeking information," a senior official from the company told
Business Standard
.
He added that SAIL had informed CSE that assessing the environmental performance of SAIL's integrated steel plants might not be appropriate, as they were in a transitional phase of modernisation and expansion.
While SAIL claims it is investing close to five per cent of its total expenditure on modernisation of Rs 75,000 crore (Rs 750 billion), CSE said SAIL's plants were found to be non-transparent and non-compliant in general.
Only its Rourkela plant participated in the rating programme while the rest -- Bhilai, Durgapur, Bokaro and Burnpur -- would not.
Hence, they were rated on the basis of available information and were found to be poor, CSE said.
Monnet Ispat, rated second-last, also said it was an environment-conscious company. "We are very clear that we are meeting all performance standards.
"In case there has been any technicality that has been overlooked by us, the company is willing to rectify it," Sandeep Jajodia, chairman and managing director, told
Business Standard
.
Tata Steel of Jamshedpur was at the fifth spot, while Jindal Steel and Power of Raigarh was ranked ninth.
Overall, Narain expressed surprise on the finding that the average performance of the sector, on all parameters put together, was as low as 19 per cent.
Environment and Forests Minister Jayanthi Natarajan and Planning Commission member Arun Maira were present at the release of the ratings.