It has an installed user base of about 350 million, 50 million active users, and over 20 million merchant users, while its payments bank has about 60 million accounts.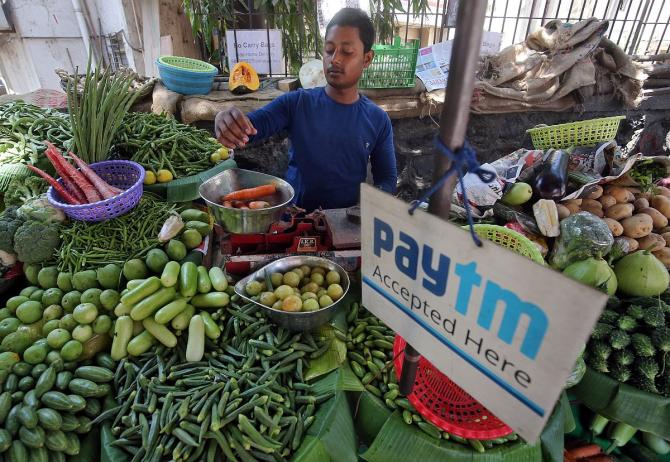 Photograph: Francis Mascarenhas/Reuters
As it readies for its initial public offering (IPO) later this year, digital payments firm Paytm is honing its strengths to remodel itself from being a payment wallet to becoming a financial services provider, and is working towards narrowing its losses, evident from its most recent Annual Report.
Unlike many of its peers, Paytm has started expanding its merchant payment ecosystem.
It has realised that though it can take the maximum share of the Unified Payment Interface (UPI) transactions, from a revenue generation point of view it will not have any impact.
According to Gautam Chuglani and Manas Agarwal of Bernstein, Paytm's peer-to-merchant payment volumes have grown at a compound annual growth rate of 67 per cent over the last three years and it now processes around $52 billion of P2M transactions.
The impact of this is yet to show on the top line.
According to the Annual Report of One97 Communications, the parent company of Paytm, it has managed to narrow its losses by 42 per cent to Rs 1,701 crore in the financial year ended March 31, while revenue from operations fell 14.5 per cent to Rs 2,802.41 crore during the year.
The report is yet to be filed to the registrar of companies.
"We believe, the next stage of growth will be led by financial services, particularly delivering seamless credit tech products to consumers and merchants.
"With increased financial discipline (rare in the hyper competitive payments space), Paytm is on track break-even in 12-18 months," said Bernstein analysts Gautam Chhugani and Manas Agrawal in a pre-IPO note on Paytm last month.
According to Bernstein, the firm has an installed user base of about 350 million, 50 million active users, and over 20 million merchant users, while its payments bank has about 60 million accounts.
Paytm's realignment of its position from being a payments service provider to merchant payments, with its credit tech vertical leading the next wave of growth, its payments bank leading to lending-based monetisation and its talent pool -- these were the key highlights of the Bernstein report.
From Internet-of-Things-enabled hardware solutions to its Paytm for Business app, the e-commerce and payments firm is engaging more and more with its merchant user base.
Its Paytm for Business app, and the IoT-enabled SoundBox devices are among its successful ventures on the business side.
The firm took a bet on devices one and a half years ago and recently launched the second version of its Soun­dBox device.
The firm had over 900,000 merchants using its IoT devices in March and is on a mission to bring 50 million merchants into the mainstream economy and equip businesses with five million IoT devices over the next few years.
The company has said it has achieved over 1.4 billion overall transactions in March, led by growth in offline payments and financial services.
Other than the merchant focus business, the company is banking on three verticals for monetisation — credit tech, wealth tech, and insurance tech. Paytm Money is another platform that will allow it to monetise in future.
With six million users taking to the platform for investing in mutual funds, it's a captive user base for the company.
Paytm has stated its interest in having a presence in the insurance business.