Sops meant to attract end users may not provide enough capital appreciation, says Priya Nair.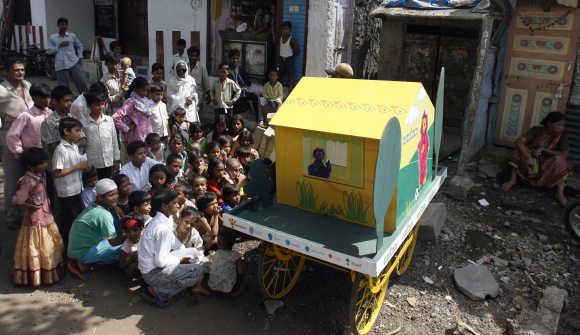 You may have noticed advertisements from several builders offering affordable homes in the past few months.
The implementation of the Prime Minister's December announcement in the Union Budget has suddenly attracted a lot of builders into this segment.
And with loans coming at a good 3 to 4 per cent lower than the rack rate of banks, a lot of interest is being generating amid both buyers and investors.
Given that some reputed builders are also present in this segment and the cheap rates, does affordable housing make a good investment option?
Not really, say experts. And for a variety of reasons.
Location
It is unlikely that the location of these properties will be in the prime areas of all the major cities.
Capital appreciation, therefore, could be a problem.
Factors like connectivity, social infrastructure (proximity to schools, colleges, hospitals, shopping complexes, etc) are critical as majority of the affordable projects are located in peripheral areas of cities.
"Builders will not be able to provide houses within the affordable price range within city limits because land is costly. This is why such projects are coming up in Karjat and Titwala beyond Mumbai. Travelling from these areas to any of the office locations will be quite tough," says Ajay Jain, executive director, investment banking & head, real estate group, Centrum Capital.
According to Amit Oberoi, national director of knowledge systems, Colliers International, the problem is getting land close to employment centres.
While some builders have sought transport connection, for instance a metro around the Outer Ring Road in Bengaluru, this is not always financially viable.
"Affordable housing is more of a social need and should ideally not be looked at as an investment option," adds Oberoi.
Approvals and credentials
Interestingly, after the Budget announcements many builders are entering the fray as they feel it looks profitable.
Many have modified existing projects to meet the requirements of affordable housing, says Tejas Patil -- head, real estate services, Sanctum Wealth Management.
For instance, if the master plan had high end one-bedroom hall kitchen flats of Rs 50 lakh, the builder will segregate some amenities and offer affordable housing.
To fit the house in the price range of say Rs 15 lakh, the unit cost would be reduced.
For investors, it is important to look at land approvals because suddenly many builders are looking at this segment. Many of them may enter into joint ventures.
Some may try to construct in green zones, especially builders who have purchased land parcels in villages. These would have to be razed later on.
In many areas bigger builders have backed smaller builders who are locals.
Amenities
An affordable housing project may not offer amenities of the same kind as other residential projects, but it should offer basic amenities, especially in a group housing project. These could be a park or play area, a basic gymnasium, shuttle service to the railway station, etc.
This affects property value and subsequent rise.
Oversupply
Too much supply could be an issue, since the government plans to have 20 million houses over the next five years. So, there may not be too much of upside, says Patil. "One way an investor can make money is to invest at the allotment stage itself so that his equity is minimal," he says.
"If it is a good brand, a gated complex with good amenities, is well maintained and attracts a good neighbourhood then it may attract buyers," he says.
Investing strategy
While end users would typically buy only when the structure is almost ready and only finishing work is left, for investors it may even make sense to invest at the early stage, provided it is a reputed builder, so that you get better price appreciation.
"Hold investment for a longer horizon to realise the full potential of capital appreciation," says Shveta Jain, MD, Real Estate Private Wealth Services, India Cushman and Wakefield.
In case, the property is part of a large township project, resale values in the initial years will be lower due to higher quantum of investible stock coupled with steady flow of new launches.
Measures to boost affordable housing
Cheaper rates on home loans: Interest rate subsidy of 4 per cent for loans up to Rs 9 lakh and 3 per cent on loans up to Rs 12 lakh.
Refinancing: National Housing Bank will refinance individual loans worth Rs 20,000 crore in 2017-18, thereby increasing the risk-taking ability of lenders.
More funds to build affordable houses: Under the Pradhan Mantri Awaas Yojana, the government has allocated Rs 23,000 crore to complete 10 million houses by 2019 for those living in kachha houses.
Tax benefit for builders: Housing projects eligible for 100 per cent deduction in profits will now include those that provide houses up to 30 sq mt carpet area within municipal limits of the four metros and 60 sq mt for other locations as against built-up area and completed within five years of approval instead of three years.
IMAGE: Children watch television on a mobile cart in Dharavi, the large urban slum sprawl in Mumbai. Photograph: Arko Datta/Reuters