'Prime Minister Modi has initiated a host of reforms in the right direction, and I would like to see that continuing.'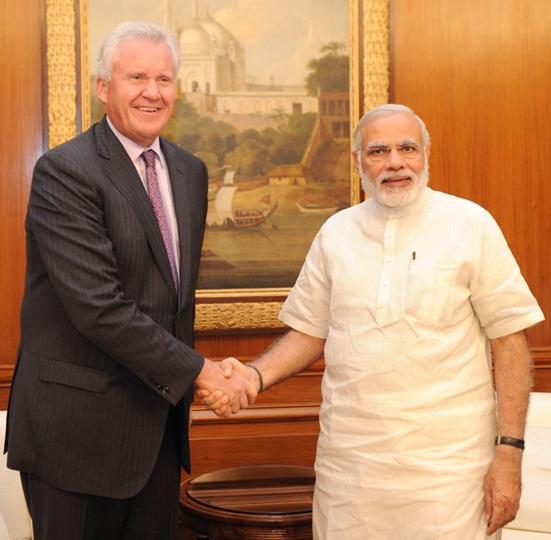 Image: Jeffrey R Immelt, CEO, General Electric meets Prime Minister Modi in New Delhi. Photograph: PIB
For Jeffrey R Immelt, the 59 year-old chairman and CEO of the $146-billion Fairfield, Connecticut, US-based General Electric, it's not a matter of India versus China.
On a visit to New Delhi on Monday, Immelt met with Prime Minister Narendra Modi in the morning, and later interacted with the media on a host of issues.

Excerpts:
On the changes he has seen since the Modi government took charge in May 2014
In the past 18 months, what has changed in India is the ability to do manufacturing. We have seen the country evolve from a market to an engineering centre, and now a manufacturing one, too.

The country's thrust on infrastructure, especially in the transportation sector, is positive for GE. Make In India is quite material for us.

As energy prices get market-driven, new opportunities will open for us. There are tremendous opportunities opening for us in health care and aviation — in both civil and military areas.

I would say there are more big opportunities for GE in India now than anytime in the past 20-25 years. With Alstom (power business), we have a bigger footprint in India — 21 manufacturing facilities in all.
On what it would take for India's business environment to become more enticing for big global businesses
There is no perfect business environment anywhere — in the US, Europe or in China.

Prime Minister Modi has initiated a host of reforms in the right direction, and I would like to see that continuing.

I have been with GE for 33 years — it's almost my wife! — and I have been coming here for the past 25 years. This is the fifth time I have been on the India modernisation programme, and this is the first time I think it will take place. Modi is carrying the hopes of the nation and the world on his shoulders.
On China's slowdown being an opportunity for India to get on the global manufacturing bandwagon
I won't root for slowdown anywhere. And there is more growth on the ground in China than is written about (in the press).

Every country has to find its competitiveness. In all the things we do - transportation, energy, healthcare, etc — India should be a much bigger market than what it is today and I don't think India needs to look at China slowing down (to realise its potential).

India is a core market for GE, to sell and make things. As far we are concerned, we were looking at four or five big projects — in infrastructure, healthcare, transportation - that can change the face of GE in India.

All of us have to figure out not just how to make money in India, but for India, too. Every GE job creates eight in the pipeline with suppliers et al . We're in a cycle here.

The price of natural gas, for instance, is too low for (viable) exploration. Achieving power for all has an issue over distribution firms not earning enough money.

There is no magic wand. I believe in global trade and one has to begin with building capabilities.
On the progress of the Rs 20,000-crore Indian Railways' diesel locomotive project
The process is underway. The (still-to-be awarded) railways contract (to manufacture 1,000 diesel locomotives) is a big opportunity for us, and we want to participate in it.
We have been multiple times on this project in the past 15-20 years. But this contract coming to fruition is important, as a project and as a big symbol for global investors.
On commercial deals in civil nuclear energy space
For that, the language (of the liability clause) has to change. I am not going to risk the company's future on this.
On India's role as GE looks at big play in software and industrial internet
Software is already a $6-billion business for us, growing at about 20 per cent a year. India can play a role in (software) development in electricity equipment and be a source for talent. I think there will be investment opportunities here.
On contract compliance in India
We're willing to put our money where the mouth is, and we have been an investor here for long; we've been in public-private partnerships here.
If you (Indian government) have a long-term view, and are not looking at making fast money, I have great faith in India.