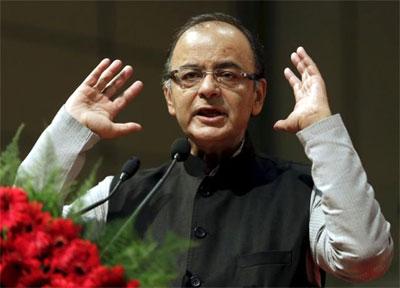 'We are working to put up an actual plan in play to deal with the banking situation, which is top of our agenda,' finance minister tells Harvard University students.
Finance Minister Arun Jaitley has said the Indian government is working on a plan to rebuild the capacity of the banking sector so that it could support growth.
Jaitley, who is on a week-long visit to the US to attend the annual meetings of the International Monetary Fund and the World Bank, also said that reforming the banking system is the top agenda of the government.
"Today, with global growth turning around, we are working to put up an actual plan in play to deal with the banking situation, which is top of our agenda. We need to rebuild the capacity (of the banking sector)," Jaitley told students of HarvardUniversity in Boston.
"I inherited a banking system whose monies were lying in non-performing assets...are unable to service the debt. We are faced with a catch-22 situation as to how do we improve the capacity of the banks so that they can support growth," he said.
So, all these factors together adversely impacted the private sector, the minister said.
Jaitley, however, also noted that bigger enterprises did not suffer, because they approached the bond market and foreign funding which were available at much cheaper rates. They did not have to go to the Indian banks.
It is the small and medium-sized enterprises that need the support of the banking system, Jaitley said, noting that SMEs are huge job creators.
"That's where the problem really is as far as the private sector is concerned," Jaitley said.
Responding to a question, Jaitley refuted the notion that private sector is not expanding.
"Expansion of private sector is taking place. The last quarter, which was otherwise not encouraging, indicated that the investment graph itself has turned positive. A lot of investment is taking place," he said.
While India's economy grew at a fast pace between 8 and 9 per cent, the expansion of the private sector was "limitless".
This was accompanied by an immediate slowdown in the global economy as a result of which major segments of Indian economy got impacted -- steel, infrastructure which was due to poor management, power mainly because of corruption, he said.