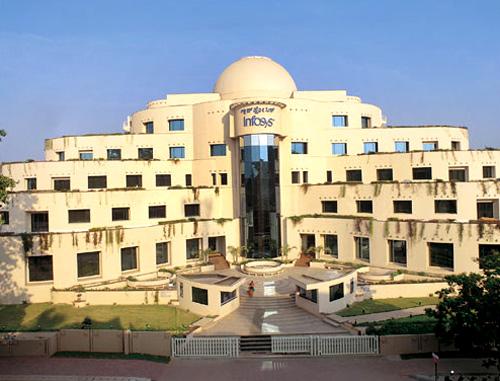 Shares of IT major Infosys on Friday settled with nearly 5 per cent gain, adding Rs 8,600 crore to its market value, after the company revised its US dollar revenue guidance upwards to 9-10 per cent for the 2013-14 fiscal.
After surging 7.54 per cent to Rs 3,360 -- its 52-week high on the BSE in intra-day trade, shares of Infosys finally ended at Rs 3,273.90, up 4.79 per cent.
At the NSE, the scrip closed 4.82 per cent higher at Rs 3,278.30.
Led by the rally in the stock, the market value of the IT major surged Rs 8,600 crore (Rs 86 billion) to Rs 1,87,999 crore.
In terms of volume, 8.10 lakh shares of the company changed hands on the BSE, while over 51 lakh shares were traded on the NSE.
Rise in Infosys stock was instrumental in sending the BSE benchmark Sensex higher by 255.68 points to 20,528.59 as the scrip alone contributed 85.02 points to the overall market gain.
"Infosys reported healthy set of results for Q2 FY14 with dollar revenue significantly ahead of estimates. With the current set of results, clearly the stock has got rewarded and
we expect further re-rating of Infosys after two consecutive quarters of healthy performance," said Ankita Somani, Research Analyst-IT, Angel Broking.
Infosys, India's second largest software services exporter, today reported 1.6 per cent rise in September quarter net profit, but raised the low-end of its sales forecast for the full fiscal.
Consolidated net profit rose 1.6 per cent to Rs 2,407 crore in July-September this fiscal from Rs 2,396 crore a year ago on a charge related to visa use in the US, Infosys said in a statement.
The Bangalore-headquartered firm raised the lower-end of its revenue forecast for the 2013-14 fiscal to 9-10 per cent from previously projected 6-10 per cent. It also revised its rupee revenue guidance upwards to 21-22 per cent from 13-17 per cent earlier for the same period.
July-September is the first full quarter since co-founder N R Narayana Murthy came out of retirement to become executive chairman as Infosys posted almost two years of disappointing earnings.
Meanwhile, buying was also seen in other IT stocks, with HCL Tech rising 3.44 per cent, TCS gaining 2.04 per cent, Wipro (1.66 per cent).
Led by the gains in these stocks, the BSE IT index settled 3.12 per cent higher at 8,514.18.
"Better-than-estimated Infosys second quarterly results for FY14 added to the markets' strength," said Rakesh Goyal, Senior Vice President, Bonanza Portfolio.