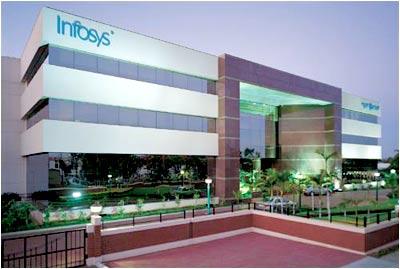 Shares of Infosys surged almost 7 per cent on Friday after the IT major reported a 13 per cent growth in consolidated net profit for the quarter ended December 2014.
Following the results, Infosys' scrip soared 6.75 per cent to Rs 2,108 at the BSE. On the NSE, it jumped 6.86 per cent to Rs 2,100.
The blue-chip stock was the top performer among the front-line scrips on both the Sensex and Nifty during the afternoon trade.
Infosys, India's second-largest IT firm, on Friday reported a 13 per cent growth in consolidated net profit to Rs 3,250 crore (Rs 32.50 billion) for the quarter ended December 31, 2014, on higher volume and improved utilisation rates.
The company's net profit stood at Rs 2,875 crore (Rs 28.75 billion) in the same period last year.
The Bengaluru-based firm's consolidated revenues in October-December quarter rose 5.9 per cent to Rs 13,796 crore (Rs 137.96 billion) from Rs 13,026 crore (Rs 130.26 billion) in the year-ago period, the company said.
The company's net profit was higher 4.9 per cent from Rs 3,096 crore (Rs 30.96 billion) in July-September 2014 quarter, while revenue grew 3.4 per cent from Rs 13,342 crore (Rs 133.42 billion) in the second quarter of fiscal 2014-15.
In dollar terms, Infosys posted 12.7 per cent jump in net profit to $522 million, while revenue was up 5.6 per cent to $2.21 billion in the third quarter.
Meanwhile, buying was also seen in other IT stocks with TCS trading 2.35 per cent higher and Wipro gaining 2.15 per cent.
Among others, Tech Mahindra rose by 3.70 per cent, Hexaware Tech (2.88 per cent) and HCL Tech (2.20 per cent).
Led by the gains in these stocks, the BSE IT index rose by 3.49 per cent to 10,750.42, the most among the 12 sectoral indices.
The broader market benchmark Sensex was also trading 47.44 points up at 27,322.15.