In FY16, Infosys had 48 employees in India who were paid more than Rs 1 crore in annual compensation, as compared to 111 in FY15.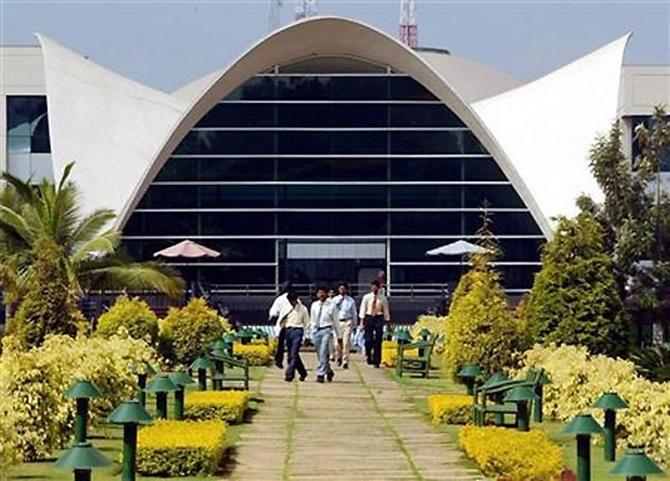 The number of crorepati Infosys employees - those earning Rs 1 crore or more annually - residing in India came down to 48 in FY16 from 111 in the previous financial year.
This could be, said sources, because many of them have moved to the client sites in the US this year, and their remuneration is not reflected in Infosys India's books.
A lower bonus paid to senior employees could also be another reason.
In FY16, Infosys stole the limelight with a better-than-expected performance.
According to its annual report for the financial year, the number of employees earning Rs 1 crore or more per annum was 48.
These are senior management personnel whose details are disclosed by the company every year "as per Rule 5(2) of Chapter XIII, the Companies (Appointment and Remuneration of Managerial Personnel) Rules, 2014."
In FY15, the number was 111.
While attempts to reach out to the company to find out the reasons behind this drop could not yield any result, sources in the company said the FY15 annual compensation for certain eligible managerial personnel was higher because of "changes in pay-out model for long-term bonuses".
In FY15, a few eligible employees were paid long-term bonuses for three years as compared to just for one year in FY16.
Experts, however, said one of the reasons for the drop in the number high-paid employees in India could be because the axis of power has now shifted to client locations, especially to the US.
For example, a senior employee who may have been hired for Infosys USA or any other subsidiary, will not have their compensation details in the list here.
The other reason behind the drop in crorepati employees could be because of the exit of some of the top-paid employees during the course of the financial year.
Prominent among those are former Chief Financial Officer Rajiv Bansal and former executive Vice-President and Head of Manufacturing Sanjay Jalona.
While Bansal has now joined home-grown taxi aggregator Ola as the CFO, Jalona is heading another IT services company, L&T Infotech, as its CEO. In FY16, according to the report, 64 such employees quit during FY16.
The salary of Chief Executive Officer and Managing Director Vishal Sikka, who is widely being credited for driving the company from the front to bring back the lost glory, went up by more than seven times.
In the annual report, Infosys said that CEO & MD Vishal Sikka, who is also a board member, took home a total remuneration of Rs 48.73 crore, an increase of 752 per cent over the previous year.
This included, basic salary of Rs 5.96 crore and bonus and incentives of Rs 42.44 crore. In FY15, Sikka was not paid for the full year since his appointment was effective from June 14, 2014.
After assuming charge in August 2014, Sikka has hired lots of key resources at the front-end who are located in the US and other geographies.
"There has been a conscious effort by Infosys to change the employee mix in geographic locations," said C K Guruprasad, a partner with the Global Technology & Services Practice in Heidrick & Struggles.
The overall compensation cost for the company in FY16 was moderate. According to the annual report, the median remuneration of employees, excluding the whole-time directors, was Rs 5,20,946 in FY16, as compared to Rs 4,89,468 in FY15, a growth of 6.4 per cent.
During the same period, U B Pravin Rao, chief operating officer and board member received a total remuneration of Rs 9.28 crore, an increase of around 53 per cent over the previous year.
In terms of expenses, the share of salaries and bonuses came down by almost 70 basis points to 48.7 per cent of the overall expenses as compared to the previous financial year.
This indicates that the cost rationalisation initiatives at the company aided improved margins.
As on March 31, 2016, Infosys had 1,94,044 employees, including 1,82,329 software professionals, of which 17,857 were newly hired.
BONUS STORY
In FY16, Infosys had 48 employees in India who were paid more than Rs 1 crore in annual compensation, as compared to 111 in FY15
The average employee salary in FY16 grew 6.4% over previous year to Rs 5,20,946 per annum
The share of cost towards salaries and bonuses came down by 70 bps to 48.7% of the overall cost
CEO & MD Vishal Sikka's annual compensation stood at Rs 48.73 crore