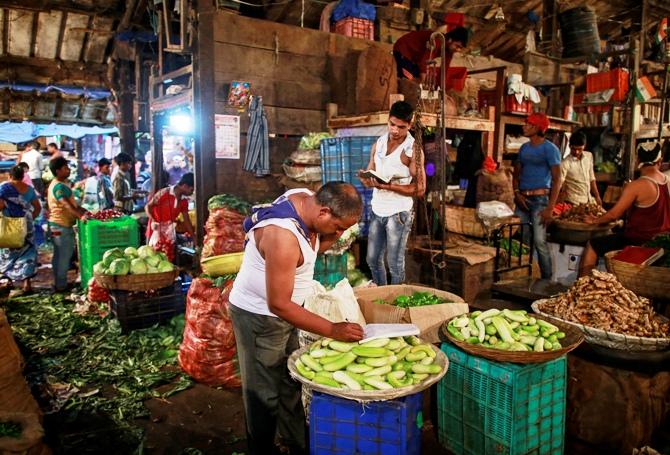 Supply issues caused by unseasonal rainfall behind price rise
Green vegetables have become costlier in the past week owing to supply disruptions following intermittent unseasonal rainfalls and thunderstorms across major growing regions.
In the benchmark Azadpur mandi in Delhi, the prices of cauliflower has risen the most by 58 per cent to trade currently at Rs 673 a quintal against Rs 427 a quintal a week ago.
Interestingly, arrivals of cauliflower have slumped by 56 per cent. Traders attribute the sharp decline in arrivals to transportation problems and fear of damage as vegetables got wet in trucks.
"There have been unseasonal rainfalls across the country. Since transporters were not anticipating any rainfalls, they were not adequately prepared to cover goods with plastic sheets.
Therefore, vegetables got wet, triggering fears of damage," said Sameer Bhujbal, a wholesale vegetable dealer in Vashi Agricultural Produce Markets Committee.
In Vashi APMC near Mumbai, brinjal prices rose 42 per cent over the past one week as its arrivals declined. From the level of Rs 1,200 a quintal a week ago, brinjal is now quoted at Rs 1,700 a quintal.
Similarly, carrot -- a salad ingredient -- has become costlier by 29 per cent to trade currently at Rs 900 a quintal in Vashi wholesale market, as its supply into the mandi declined 11 per cent to 155 tonnes.
"Vegetable prices are likely to continue is uptick for the next three months, until the new-season crops hit the market.
"So, vegetables would continue to pinch consumers' kitchen budget until June," said Shri Ram Gadhave, president of Vegetable Growers Association of India.
He added the rainfalls were deficient in the last monsoon season, resulting in lower level of soil moisture left for rabi sowing.
As a consequence, farmers remained hesitant in sowing vegetable seeds in drought-hit areas. Therefore, supply would remain lower this year, he said.
Meanwhile, reduced supply from Maharashtra has started impacting prices in Gujarat, Madhya Pradesh, Kolkata and Delhi.
Image: A vendor writes down an order at his stall at a wholesale fruit and vegetable market in Mumbai. Photograph: Danish Siddiqui/Reuters