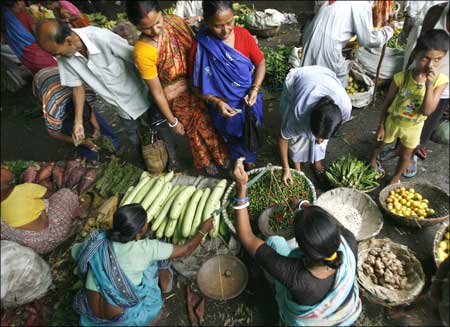 Headline inflation is expected to moderate till September this year and stay below 5 per cent, largely due to base effect, global research firm Dun and Bradstreet said in a report.

According to the Dun and Bradstreet economy forecast while subdued demand is expected to slow down the overall inflation, upside risks to overall inflation persists from depreciation of rupee and increase in global crude oil prices.

D&B expects the WPI inflation to remain in the range of 4.7 per cent - 4.9 per cent during May 2013.

The wholesale price-based inflation was 5.96 per cent in March, while in April, 2012, it was 7.50 per cent.

Declining for the third straight month, inflation has returned to the comfort zone of the Reserve Bank for the first time since November 2009, when it was 4.78 per cent.

"Persistent inflationary pressure which has impacted the industrial production and consumption demand has been on a downward trend since the past few months," Dun &
Bradstreet India Senior Economist Arun Singh said.
Singh further said that while this gives hope that the decline in inflation will aid in the recovery of the Indian economy, the underlying factors which could derail the downward momentum of the inflation cannot be undermined.
According to D&B some of the factors that would play a major role in determining the path of inflation going forward include depreciation of rupee, rise in the global crude oil prices, higher current account deficit, supply side constraints, upcoming monsoon and the implementation of the food security bill.
Singh further added that besides easing of inflation, continuation of reform process, implementation of the policy measures and thrust on infrastructure activities are crucial to propel the growth momentum of the Indian economy.