Contracting for the second month in a row, India's exports dipped by 6.58 per cent to $32.91 billion in January due to slowdown in global demand, even as the trade deficit touched a 12-month low of $17.75 billion during the month, according to official data released on Wednesday.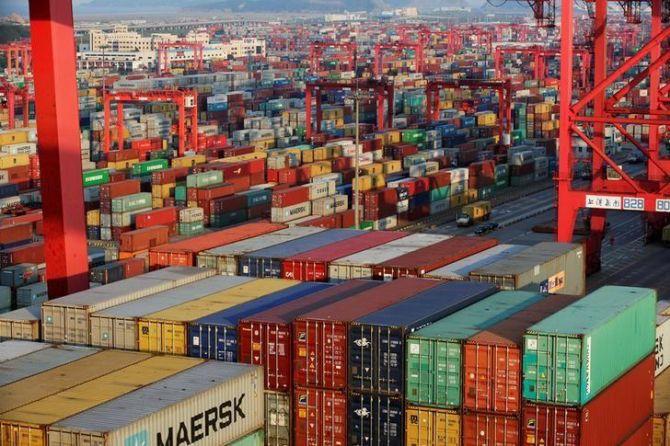 Imports in January too contracted by 3.63 per cent, the second consecutive month, to $50.66 billion.
Cumulatively, however, during April-January 2022-23, the country's merchandise exports rose 8.51 per cent to $369.25 billion, while imports increased 21.89 per cent to $602.20 billion, the data showed.
The merchandise trade deficit for the April-January this fiscal stood at about $233 billion.
The country's exports had contracted by 12.2 per cent to $34.48 billion in December 2022.
Last time, it was in January 2022, when the trade deficit touched $17.42 billion.
Export sectors that recorded negative growth during the 10-months period of this fiscal include engineering goods, iron ore, plastic and linoleum, gems and jewellery.
Engineering exports dipped by 3.37 per cent to $88.27 billion during April-January 2022-23. In the same period, gems and jewellery shipments declined by 0.54 per cent to $31.61 billion.
Sectors which recorded positive growth include petroleum products, electronic goods, rice, ready-made garments of textiles and chemicals.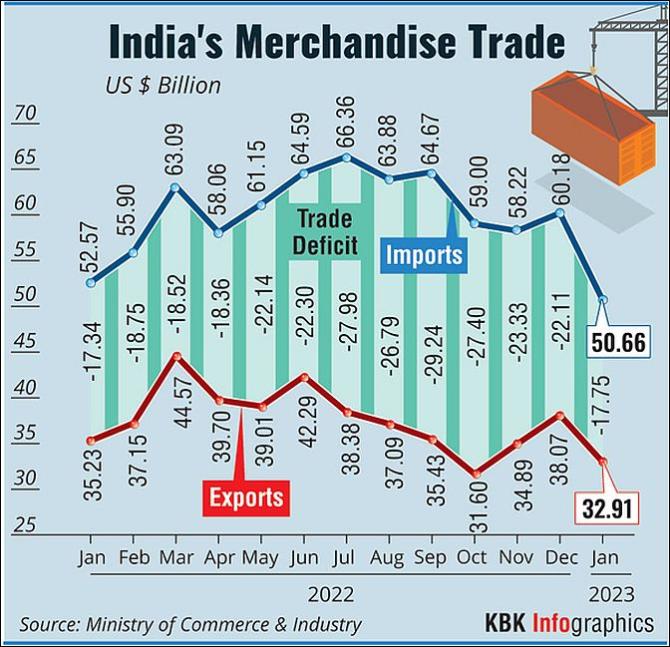 "The overall exports (goods and services) growth in the current financial year is about 17.33 per cent.
"The main engine behind this export growth is the services sector, which has been growing at a historically high growth rate of about 30 per cent.
"Merchandise exports are also cumulatively growing at 8.5 per cent.
"We are optimistic that this growth momentum would continue despite strong global headwinds," commerce secretary Sunil Barthwal told reporters.
Gold imports during April-January this fiscal contracted by 11.26 per cent to $29 billion, as against $40.35 billion in the same period last year.
In the 10-months of the current fiscal, crude oil imports rose 53.54 per cent to $178.45 billion.
Similarly, imports of coal, coke and briquettes rose by 18.91 per cent to $43.17 billion.
"In spite of global headwinds, political turmoil and recessionary trends amongst the major economies, during April-January this fiscal, the country's merchandise exports recorded a growth," said Sanjay Budhia chairman – CII National Committee on Exports & Imports.