Mr Adani has a fight on his hands. It is not a fight to the death, asserts T N Ninan.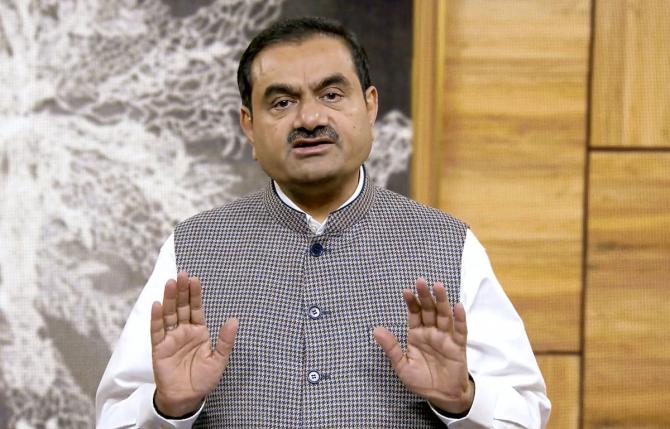 The operative question is, what happens after the great fall?
Even if something in excess of $120 billion has been lopped off the market value of the Adani firms (with about two-thirds of that loss suffered by Gautam Adani himself), the fact is that the group is still valued at over $100 billion, with Mr Adani therefore worth at least two-thirds of that.
These numbers have to be approximations because of the rapidly evolving scenario, and because it is hard to make adjustments for cross-holdings, pledges of promoter shares and such.
But even if Mr Adani is no longer the world's No. 1 or No. 2 in terms of wealth, or even No. 20, he remains a very wealthy man and the group is still a very large entity.
So what next? Hindenburg Research said that the group was 85 per cent overvalued.
Since that estimate was released 10 days ago, the share price correction has averaged about 60 per cent.
But even now, the group's companies enjoy outsize valuations.
Adani Power, for instance, is valued at more than 14 times book value, as is Adani Transmission, while Adani Green Energy is valued at 56 times book value!
More normal multiples to book value exist for a recently acquired entity like Ambuja Cement, which has a price to book ratio of 2.1.
By the standards of normal valuation, many Adani shares still have a long way to fall.
Companies don't live or die on the basis of their market capitalisation, though they can exploit it to raise fresh capital.
But capital has to be serviced, especially debt, for which you need profits and cash flow.
The financials of the seven core listed entities of the Adani group show pre-tax profits last March of about Rs 17,000 crore (Rs 170 billion) -- not very different from that of NTPC!
The group's overseas debt is now discounted to distress levels in the market, and credit ratings may be lowered.
So any fresh bonds will be on expensive terms.
Fresh bank loans will need brave bank managers.
And the equity market will look very hard at any fresh offering of equity, following the Adani Enterprises fiasco.
The short point is that the group's attention will necessarily be focused now on meeting its existing debt-servicing obligations, in order to retain financial credibility.
Funding ambitious new projects must take a back seat until finances stabilise.
With limited cash flow, and with market capitalisation reduced by more than a half, the Adani group will have to cut its cloak according to the cloth that is left.
The big difference with Mukesh Ambani, who (if such things matter) is now much wealthier than Mr Adani, is that he has already pared his debt and therefore has cash to burn on anything he chooses to invest in.
So we may hear less than before about Mr Adani becoming the biggest producer of green hydrogen and the biggest power producer, with big projects also in solar energy, defence, and semi-conductors, quite apart from expanding existing port, airport, and other businesses.
The danger of getting on to a slower growth track is that it risks even the current, post-fall market valuations.
Just as a smart businessman on the up can build a positive growth loop by juggling many balls in the air, he can also get caught in a negative spiral when the constraints start closing options.
This column said last week that Mr Adani has a fight on his hands.
It is not a fight to the death, so this is by no means the end of Gautam Adani.
After all, he has friends in the right places, he remains the second-wealthiest person in the country, and his corporate group is one of the biggest.
But Mr Adani would certainly have re-assessed his position after the initial bravado, when he declared he would neither extend his public issue nor lower its price.
More seriously, the fight could have spread effects on those who financed Mr Adani, on the projects that he had embarked on, and on the government's manufacturing and infrastructure ambitions -- built to some extent on the abilities of those chosen as national champions to deliver.