Firing all cylinders, India continues to maintain its streak of world-beating economic growth after the GDP growth for the March quarter beat all expectations with a 6.1% expansion that helped push the annual growth rate to 7.2%.
After this, the Indian economy is now USD 3.3 trillion in size.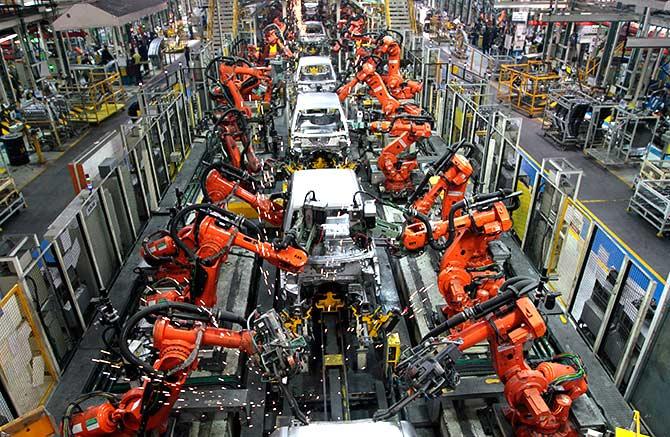 Asia's third-largest economy beat all estimates to grow at 6.1% in January-March, the last quarter of the 2022-23 fiscal, up from a revised 4.5% in the previous quarter, government data released on Wednesday showed.
The growth was boosted by a 5.5% expansion in agriculture and a 4.5% growth in manufacturing. Other sectors of the economy -- construction, services and mining -- too posted handsome growth rates.
The economic expansion was recorded at 6.1% during the March 2023 quarter, while it was 4.5% in October-December and 6.2% in July-September 2022.
The growth was 13.1% in April-June 2022, as per the data released by the National Statistical Office (NSO).
For the full 2022-23 fiscal (April 2022 to March 2023), the growth now stands revised to 7.2%, above the earlier projection of 7% but lower than the 9.1% expansion in 2021-22.
This helped it maintain the tag of the fastest-growing emerging economy. China grew by 4.5 per cent in the first three months of 2023.
High-frequency indicators showed the economy gaining momentum in April thanks to higher tax collections and a booming services sector. But exports and imports declined, smudging the outlook. Barring the monsoon and geo-political risks, India's economy may exceed the initial estimate of 6.5% for the current fiscal (April 2023 to March 2024).
"So, we are very pleased to have been able to present a story of sustained economic momentum combined with macroeconomic, financial and fiscal stability, and we look forward to another year of solid economic performance by India," Chief Economic Adviser V Anantha Nageswaran said.
A stable current account deficit, rising foreign exchange reserves and inflation slowing to an 18-month low of 4.7% are positives for the economy. A below-normal monsoon or a hot summer impacting crops as well as volatile global commodity prices fuelling inflation pose some of the risks.
Rumki Majumdar, economist, Deloitte India, said the GDP numbers were "pleasantly surprising but not completely unexpected".
"The strong rebound in manufacturing is the cherry on top since the modest recovery in the sector was a concern for policymakers," Majumdar said.
"Strong manufacturing and construction growth is encouraging because it is key to private investment in the coming quarters. With industry capacity utilisation rates and the government's capex spending reaching high levels, private investments will crowd in sooner than expected. High-frequency data on credit disbursement and light diesel oil consumption also suggest higher manufacturing activity in this fiscal."
Gross value added (GVA) growth during the fiscal ending March 2023 was 7% against an 8.8% growth in the preceding year.
GVA growth in the manufacturing sector accelerated to 4.5% in the March 2023 quarter against 0.6% a year ago.
The growth in mining was 4.3% in the fourth quarter compared to 2.3% in the same quarter of the previous fiscal. Construction grew 10.4% in the quarter, up from 4.9% in the corresponding period of 2021-22.
The agriculture sector growth accelerated to 5.5% from 4.1%.
The electricity, gas, water supply and other utility services segment grew 6.9% during the fourth quarter from 6.7% in the year-ago period.
GVA growth in the services sector -- trade, hotel, transport, communication and services related to broadcasting -- was 9.1% in the fourth quarter against a growth of 5% a year ago.
Financial, real estate and professional services grew by 7.1% in the March 2023 quarter compared to 5.7% in the year-ago period.
Public administration, defence and other services posted 3.1% growth in the quarter against 5.2% expansion in the same quarter a year ago.
Separately, provisional Union government finance numbers as per controller general of accounts showed limiting of fiscal deficit to 6.4% of the GDP in 2022-23, mainly due to continued good performance of tax and non-tax revenue.
Also, the overall core infrastructure sector growth for FY23 came in at 7.7% with a solid performance in the coal, fertiliser and electricity sectors.
However, core sectors' growth for April 2023 again came in at a tepid 3.5% year-on-year. A contraction in the output of crude oil, natural gas, refinery products and electricity along with a high base effect pushed the core sector growth to a six-month low.
Sunil Sinha, principal economist, India Ratings and Research, said despite global headwinds, the growth momentum witnessed in FY23 is indicative of the Indian economy's resilience.
"However, the road ahead is not going to be easy so long as private final consumption expenditure (PFCE) does not recover fully and become broad-based. In fact, the real wage growth became nearly flat or even turned negative in some months of FY23 due to high inflation.
"Since much of the growth in consumption demand is driven by the wage growth of the household sector, a recovery in their wage growth is imperative for a sustainable economic recovery," he said.