India Inc could be embarking upon a new phase of capital expenditure (capex) cycle, observed analysts, and suggest its revival would lead to a rerating of industrial stocks.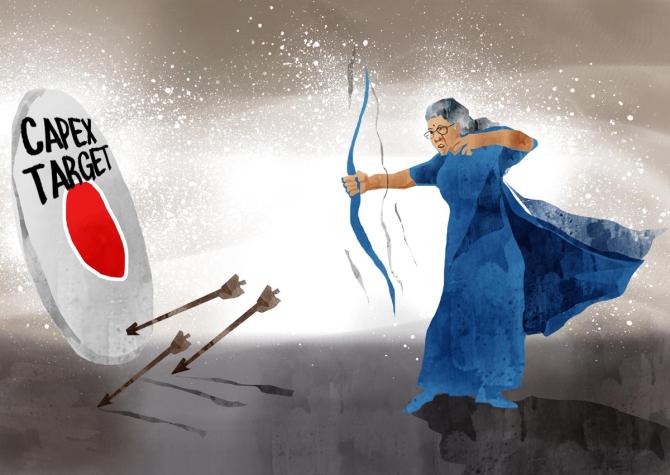 Assisted by a property upcycle, analysts at Jefferies said several government initiatives were likely to drive capex.
Indicators, they said, include a private project announcement at Rs 25 trillion for 2022-23 (up 150 per cent from pre-pandemic levels) and credit growth at about 16 per cent, which is closer to pre-pandemic highs.
"Order flows into industrial companies have also picked up, with over 15 per cent year-on-year growth from the pre-pandemic lows of 5 per cent.
"Capacity utilisation at 73 per cent is above the historical average, which gives us optimism that we are entering a new phase of the capex cycle," wrote Mahesh Nandurkar, managing director, Jefferies, in a recent note co-authored with Abhinav Sinha and Nishant Poddar.
Capital goods stocks have seen a good run on the bourses thus far in the calendar year 2023 (CY23), with the S&P BSE Capital Goods rallying 12 per cent, compared to the S&P BSE Sensex which has moved up about 1.5 per cent during this period.
"A meaningful capex cycle revival in India is likely to start later this year once the Reserve Bank of India pauses and pivots.
"A change in monetary policy stance will not only lower borrowing costs but will also give demand a leg-up. Larsen & Toubro (L&T) remains the best stock to play this theme, besides Siemens, ABB, and Bharat Heavy Electricals (BHEL)," said Chokkalingam G, founder and head-research, Equinomics Research & Advi­sory.
L&T hit a record high of Rs 2,366 on Monday (previous high of ~2,329.9 hit on April 11).
The counter has surged over 13 per cent thus far in CY23 and is up over 37 per cent in the past year.
As private final consumption expenditure (PFCE), i.e., consumption share in gross domestic product (GDP), rose over the past decade, consumer stocks got rerated, argued Jefferies, with the one-year forward price-to-earnings (P/E) of fast-moving consumer goods stocks, which was 20x in 2011, swelling to 50x.
Consumer discretionary names (excluding automotive) went up from 20x to 70x over the same period, it said.
"The rerating was also a function of investors preferring to play the consumption theme rather than the weakening investment theme.
"PFCE, as a share of gross domestic product (GDP), rose from 54.7 per cent (2010-11) to 61.3 per cent (2020-21) as investment cycle weakened.
"It has now peaked and started to reverse in the past two years as gross fixed capital formation, as a share of GDP, started rising," wrote Nandurkar, Sinha, and Poddar.
Applying a similar trend as seen in the consumption cycle to the capex cycle, Jefferies said that the capex revival would lead to a rerating of industrial stocks.
The brokerage suggested that there are limited choices available to play the capex revival theme, particularly when a few big names, such as L&T, Adani Group, and the cement sector, suffer from environmental, social, and governance issues as well.
"We remain overweight on the industrial sector with our preferred picks being L&T, Thermax, Siemens, Polycab, KEI Industries, and ABB.
"Some of these stocks are already rerated, but with the expected earnings growth of 25-30 per cent compound annual growth rate over 2022-23 through 2024-25, the stocks could outperform even if P/E sustains," said Jefferies.
Those at ICICI Securities, too, continue to be overweight on the capex revival theme.
L&T, BHEL, Siemens, NTPC, NH­PC and Oil and Natural Gas Corp­oration are some of the stocks within the capital-intensive and cyclical themes they re­main bullish on, according to its recent note.