Stung by a seven per cent fall in its order book in the first four months of the current financial year, the leather industry is looking for export destinations other than the crisis-hit Europe, which accounts for 60 per cent of its revenue.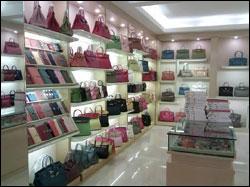 The slippage is painful, as it comes against the backdrop of a 23 per cent growth in 2011-12. However, M Rafeeque Ahmed, chairman of the India Council for Leather Exports, is wistful: "It was really a record year for the industry. We achieved a revenue of $4.9 billion (around Rs 25,160 crore today) in 2011-12 against the target of $4.7 billion."
Ahmed says the industry is slowly coming to terms with the new reality, as order inflows from Europe has dropped by an average 20 per cent due to the severe slowdown in that region.
While tier-I companies like Ahmed-owned Farida Group, one of the largest finished leather exporters in the country, reported 10-12 per cent drop in order flow from Europe, tier-II and III companies saw a fall in the range of around 20-25 per cent. S Srinivasan, a Chennai-based exporter, says orders have declined by around 25 per cent.
The industry is now looking at non-European countries and is also joining hands with its counterparts in Pakistan, Sri Lanka, Afghanistan and Bangladesh to combat the raw material shortage and price-crunch due to recession in European markets.
Ahmed says warm winter and the general economic slowdown have brought down public spend in Europe. For instance, per capita usage of footwear in European countries is 4.5 pairs, which has now reduced by one pair. "It (cutting one pair of footwear) means a 20 per cent cut in the orders from Europe," he adds.
According to Neeraj Kumar Gupta, executive director, India Trade Promotion Organisation (ITPO), the industry is also exploring other potential markets, including Southeast Asia, Japan, Korea, Africa and Latin America. Paresh Rajda, regional chairman of the Council for Leather Exports, adds other markets being looked into are Southeast Asian markets, which are currently dominated by China.
The industry is hopeful that the second half of this financial year will bring in new orders coinciding with year-end celebrations, including thanksgiving and Christmas. "Looking at the current scenario and the estimated order inflow, the industry may not grow to the level of last year. At the most, we will report 10 per cent growth," says Ahmed.
The other problem, of course, is availability of raw material due to demand for hides and skins in international markets, after the floods in Brazil, Australia and Pakistan, which in turn pushed up the price of raw material. Besides, labour cost and power cost are also eroding the margins on the products by around 10-17 per cent.
To address the raw material issue, price-crunch due to recession in European markets and create a regional brand image, a regional industry association called Leather Industries Association of South Asia (LIASA) has been formed. Initially, it will be represented by India, Pakistan, Bangladesh, Sri Lanka, Nepal and Afghanistan.
Ahmed, who will spearhead LIASA, says the idea is to explore market and product diversification strategies, reducing transaction costs, improving design efficiency and moving up the value chain. "More emphasis will be on inter-trade possibilities." For instance, according to him, India has got the best component base, which other countries like Pakistan, Bangladesh and Afghanistan have, but they have good cow leathers, which currently source from Europe by Indian companies.
Will China's loss will be India's gain?
In the first half of 2012, the Chinese leather industry had slowed down. Data from the China Leather Industry Association shows the export of leather, fur and relevant goods such as leather shoes and clothes in the first half of 2012 reached $33.5 billion with a year-on-year growth of 9.1 per cent against 27.84 per cent in 2011.
Imports, which reached $3.76 billion with of 9.3 per cent, also dropped from 20.24 per cent in 2011. Besides, trade surplus in the leather industry reaches $29.702 billion, up 9.05 per cent. Industry sources say rising cost of production in China has been diverting to various countries.
According to estimates, labour costs in the Chinese leather industry have increased from $0.39 per hour in 2003 to more than $1 per hour in the recent years.
According to Ahmed, if India wants to use the opportunity, the first focus should be investing in capacity and address infrastructural issues like power, labour cost, etc.