The Asian Cricket Council (ACC) has called on the International Cricket Council (ICC) to give associate membership to Afghanistan which would elevate the war-torn country to the second tier of membership behind the 10 Test-playing nations.
"The ACC development committee, that met in Islamabad, believes that Afghanistan deserves associate membership of the ICC due to their fast-improving track record," Zaka Ashraf, who heads the ACC committee, said.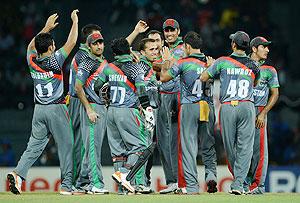 Afghanistan, who were eliminated in the group stages of the Twenty20 World Cup in Sri Lanka which resumes with the super eights on Thursday, are one of 60 ICC affiliate members.
There are 36 associate members in countries where "cricket is firmly established and organised".
Ashraf said Afghanistan had proven a force among affiliate members and now had ACC backing to get associate membership from the sport's world governing body.
"Cricket is catching up and becoming popular in Asia and we have received applications from Tajikistan, Chinese Taipei and Cambodia regarding affiliation to us," he said.
Ashraf also said the ACC committee was impressed by the progress made by China.
"Lot of development work has been carried out there for cricket and in the next few years they should play top-level cricket," he said.
Photograph: Gareth Copley/Getty Images