At present 100% FDI is allowed, of which up to 49% investment in a company can be done through the automatic route
Illustration: Dominic Xavier/Rediff.com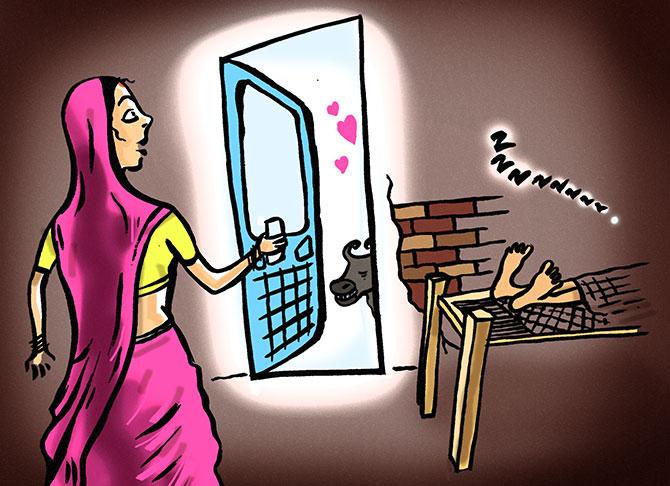 The government is finalising a plan to allow 100 per cent foreign direct investment (FDI) for telecom services through the automatic route, which allows firms to attract foreign funds without its approval, sources said on Wednesday.
The proposal is likely to be considered by the Telecom Commission (TC), the apex decision-making body of the Department of Telecommunications (DoT), at its meeting scheduled for Thursday, they said.
"The TC is likely to consider raising FDI limit up to 100 per cent for all telecom services, including infrastructure, through the automatic route," a source said.
At present 100 per cent FDI is allowed, of which up to 49 per cent investment in a company can be done through the automatic route.
The inflow of overseas investment beyond that requires government approval because of security reasons.
The panel is also likely to discuss the relief package recommended by an inter-ministerial group (IMG) for the telecom sector, which is reeling under debt of Rs 7.75 lakh crore at the end of March, of which bank borrowing and liabilities toward spectrum payment to DoT were Rs 5.8 lakh crore.
The DoT has already approved an increase in the time frame for deferred spectrum payment to 16 years, besides a change in calculation of interest on delayed payment.
Thursday's meet will also see a decision on spectrum caps.
The Telecom Regulatory Authority of India (Trai) has recommended raising the 25 per cent overall spectrum limit to 35 per cent, with removal of a 50 per cent intra-band cap.
Instead, it has proposed a cap of 50 per cent on combined holding in the sub-1 gigahertz bands (700, 800, and 900 megahertz).
Cap relaxation would allow Vodafone and Idea Cellular to retain their airwaves after a (proposed) merger and allow other companies more spectrum in a particular band.
The IMG had asked DoT to seek Trai's views on spectrum caps and if the limits should be relaxed.
After the TC approval, the financial measures will be placed before the Cabinet by the end of this month.
The TC had also sought legal opinion regarding adjusted gross revenue applicable on receipts from spectrum trading and this will also be discussed on Thursday.
With Reliance Jio's entry last year, there has been an intense rate war.
Older operators have been pointing to pressure on revenue and profit, blaming rock-bottom data rates and free offerings of Jio for the sector's financial state.
Indian Banks' Association has asked the government to allow telecom companies undergoing debt restructuring in schemes drawn up by the Reserve Bank of India to surrender liberalised spectrum.
Any excess upfront payment associated with such spectrum should be refunded, it has argued.
Additional inputs from PTI