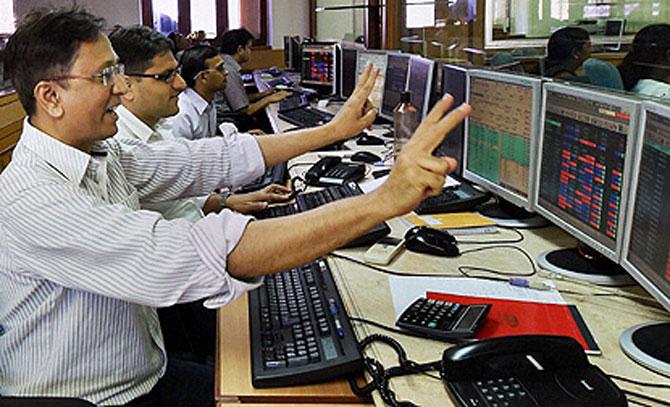 If you are bullish on the consumption theme, consider specialised mutual funds that focus on this theme.
Remember that such sectoral mutual funds should not make up more than 5% to 10% of your equity portfolio, experts tell Sanjay Kumar Singh.
The consumption theme is getting a lot of attention from investors currently.
Both the Fast-Moving Consumer Goods Index and the Auto Index have returned 10.18% and 4.06% in the past three months.
And even over the longer term, they have been exceptional performers.
The FMCG and Auto indices have given returns at a compounded annual growth rate of 17.04% and 20.29% respectively over the past 10 years.
In recent months, they have performed exceptionally well on the back of news that there will be a good monsoon.
Add to that, an election year which will see the government focus more on the rural segment, and you have an exciting mix that should see companies in these sectors doing exceptionally well.
Favourable monsoon may provide fillip to rural consumption: As a result of the twin blows of demonetisation and the rollout of the goods and services tax, private consumption had suffered a sharp setback, resulting in a significant drop in aggregate demand.
All that appears to be behind us now.
"The first signs of a resurgence in consumption were evident from the volume growth numbers shown by various consumption-oriented companies in the fourth quarter results," says Ajay Bodke, CEO and chief portfolio manager, Prabhudas Lilladher.
Volume growth was accompanied by an improvement in gross margins, which indicates that companies are regaining their pricing power.
If the monsoon turns out to be normal, as has been predicted so far (it will be the third consecutive year of normal monsoon), rural consumption will get a fillip in the second half of the financial year.
"The government had said in the Union Budget that it wants to raise farmers' incomes. We expect generous increases in the minimum support prices for kharif crops. As this is an election year, one can expect the government to be indulgent about putting money in the hands of rural consumers," says Gautam Duggad, head of research, Motilal Oswal Institutional Equities.
Sectors to consider
In the retail segment, consider players that have robust operating parameters, are registering high same-store volume growth, and which are in expansionary mode.
If you find all these characteristics, you may even consider paying a premium valuation for the stock.
The current strength in urban consumption will be favourable for players within the modern retail segment.
The jewellery sector is expected to benefit from the large-scale movement of customers from the unorganised to the organised sector.
Players like Titan are already benefiting from this trend.
Investors may also consider stocks within the auto segment, which has been turning in consistent volume growth for several months now.
In recent times, the paints sector had suffered because of the sharp rise in crude oil prices, and some of the key raw materials had turned more expensive.
However, it appears that crude oil prices may have plateaued, at least in the short term. This should bring relief to paint companies.
Investors may also play the consumption theme indirectly by investing in non-banking finance companies.
According to Jatin Khemani, founder and CEO, Stalwart Advisors, a Sebi-registered independent equity research firm, "We are bullish on amusement parks due to the country's young demographics and the limited number of people visiting them currently, and the luggage industry, driven by rising air travel, which is an oligopoly with just three players dominating the market."
Khemani is also bullish on footwear and apparels, where the organised players are growing faster; and the content industry, which offers great potential as the cost of data goes down and people get addicted to watching content on their mobiles.
Things to watch out for
Valuations of most consumption-oriented stocks have turned expensive at present.
"If you enter these stocks with a six-month to one-year horizon, you could end up getting disappointed. Invest in these stocks with at least a three-year horizon," says Duggad.
Currently, the assumption is that the monsoon will be spread out evenly over the country. It may not turn out to be so eventually, affecting consumption in the rain-deprived parts of the country.
"Investors should keep a close eye on the spatial distribution of the south-west monsoon," says Bodke.
The magnitude of MSP hikes in the kharif season will be positive by putting more money in the hands of the rural population.
But if this turns out to be inflationary, the Reserve Bank of India could hike, which will be negative for equities.
If you are bullish on the consumption theme, but feel that stock-picking is not your forte, consider specialised mutual funds that focus on this theme.
However, remember that such sectoral mutual funds should not make up more than 5% to 10% of your equity portfolio.