Modi has been relentless in building his brand regardless of banks having a problem of fraudulent and unauthorised transactions with his companies.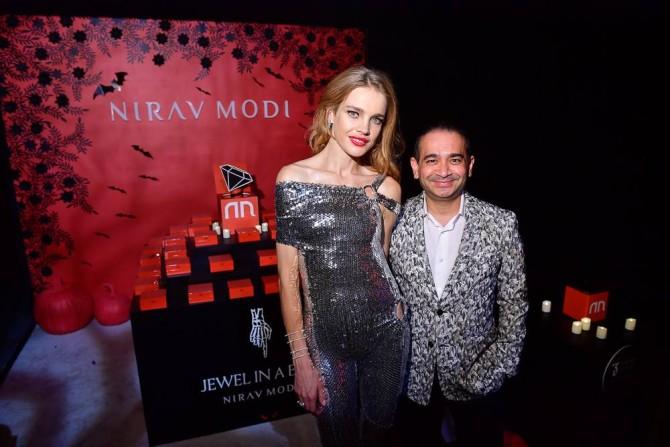 Just about a week ago, diamond jeweller Nirav Modi opened a new store in Macau.
Barely three months ago, he had opened a second store in DLF Emporio's Chanakya mall in New Delhi, with plans for another one, in Bengaluru, later this year.
Modi has been relentless in building his brand regardless of banks having a problem of fraudulent and unauthorised transactions with his companies. His website is running Valentine's Day promotions beside pictures of Hollywood celebrities wearing his jewellery and details of the fashion shows he sponsored recently.
Modi's ambition was to expand to 100 stores by 2020, not unusual for a brand that is trying to grow. He has boutiques in New York, Las Vegas, Honolulu, Singapore and Beijing. There is one store in London, three stores in Macau, and four stores in Hong Kong, where Modi's sister Purvi Mehta is based and runs the company's design division. Besides Bengaluru, another boutique was slated to open in London.
All this could be derailed now, as lenders to Modi, his company Firestar Diamond and other firms huddle into emergency meetings to try and figure out what their exposure in either loans or bank guarantees to the diamond company is.
On Tuesday, the Central Bureau of Investigation received two complaints from Punjab National Bank (PNB) against Modi and a jewellery company, alleging fraudulent transactions worth about $1.8 billion. Calls and emails made to Nirav Modi and Firestar CFO Vipul Ambani were not returned till the time of going to press.
One mainstream gold jeweller, who has been in the trade for over two decades and declined to be named, said banks giving funds to fraudulent companies was not an isolated instance.
He added there was a scramble of private equity funds and banks in search for "rock star businesses" to fund and maximise investments, while these companies "promise 24 per cent internal rate of return, launch multiple stores and deploy endless amounts with fancy media campaigns to support the whole illusion".
As a jeweller with multiple stores, he said he knew the ground reality of sales and profits especially in the past two years, given the note ban as well as the goods and services tax roll-out.
Others in the industry do not condone Nirav Modi's pattern of behaviour. Pramod Agarwal, chairman of the Gem & Jewellery Export Promotion Council, said, "While it is the endeavour of every industry body to regulate behaviour of its members and enforce standards, the reality is that we cannot control the behaviour of a few stray elements. Nor do we support it."
A decade-long apprenticeship under his uncle Mehul Choksi in Mumbai gave Modi training on everything from diamond polishing to retail, after which he decided to get involved in building his own brand. But before all that, there were a string of acquisitions in the US. In 2005, he acquired the wholesale division of Frederick Goldman, a national diamond retailer.
Two years later, he bought Sandberg & Sikorski, the largest jewellery supplier to the US Armed Forces, and A Jaffe, a 120-year luxury bridal jewellery label, for $50 million. The acquisitions supported the private-label business, supplying to the military, as well as to department stores JC Penney, Costco and jewellery retailer Zales.
In 2009, Firestar, Modi's wholesale business, opened offices in Hong Kong, South Africa, Belgium, Dubai, Armenia and Russia, following which in 2010, the Nirav Modi brand was launched. In 2012, Modi also acquired Fantasy Diamond, a jewellery wholesaler. He brought in professionals to do what he could not. Angelina Ypma, global president at Nirav Modi, once worked for Bulgari and Cartier, while Vipul Ambani was brought in as CFO from institutional brokerage firm Tower Capital where he was a senior executive.
Modi, who never counted the jewellery fraternity as part of his core universe has said in the past that most of his friends ended up being accountants. The bent of mind was what they had in common, he would say.
Photograph: Courtesy, Nirav Modi on Facebook.
---
Lenders seek forensic audit of Gitanjali group's books
Lenders to the Mehul Choksi-led Gitanjali group have ordered a forensic audit of the jewellery firm after Punjab National Bank (PNB) named him in a complaint filed with the Central Bureau of Investigation (CBI) against jeweller Nirav Modi and his relatives through a clutch of companies they own.
With a large-scale fraud in the gems and jewellery industry, banks would now be reluctant to take additional exposure to this sector, senior public sector bank (PSB) executives said.
Banks, including PNB, had earlier taken a hit for their exposure to Winsome Diamonds, whose promoters were declared wilful defaulters.
The Gitanjali stock was down 6.7 per cent at Rs 58.6 per share on the BSE.
Three bank executives said the Delhi-based PNB had flagged Choksi's name. "Before forming any view and taking action on Choksi-owned entities, banks would like to have clear idea about his role. The forensic audit will help in securing clarity. We cannot proceed against his entities just on the basis of concern expressed by PNB."
Bankers said the Gitanjali group had a standard account with IDBI Bank and Dena Bank. ICICI Bank is the lead lender in the consortium of banks that have exposure to the jeweller.
According to Gitanjali Gems's 2016-17 annual report, over 30 lenders had exposure to the company, including State Bank of India, Standard Chartered Bank, Bank of India and Bank of Baroda.
The company has informed the BSE that its quarterly results could not be finalised due to pressing contingencies. It did not elaborate on what those contingencies were.
-- Abhijit Lele