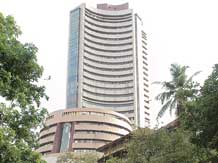 Benchmark share indices extended gains for the second straight day to end over 1% higher led by Tata Motors after it reported better-than-expected June quarter earnings and renewed buying interest in financials.

The 30-share Sensex jumped 362 points or 1.4% to end at 25,881 recording its highest daily gain since June 6 and the 50-share Nifty ended 101 points higher to close at 7,727.

The Indian rupee was trading higher at Rs 61.12 compared to the previous close of Rs 61.19 tracking gains in equities.

Asian markets ended mixed on profit taking after recent gains. Japan's benchmark Nikkei ended up 0.2% at 15,161.31.

However, Shanghai Composite and Straits Times ended down 0.1% while Hang Seng ended up 0.2%.

European shares were trading lower on concerns over growing tensions in Ukraine while the recent developments in Iraq also weighed on sentiment.

However, the FTSE-100 rebounded from its early lows and was up 0.1% while CAC-40 and DAX were down 0.1% each.

Tata Motors ended nearly 6% up after reporting a robust 213% year-on-year (y-o-y) jump in consolidated net profit at Rs 5,398 crore for the quarter ended June 2014 (Q1), on back of strong demand for new products, growth in volumes, richer product mix and richer geographic mix at Jaguar Land Rover (JLR).

The country's biggest automobile manufacturer had profit of Rs 1,726 crore in the corresponding quarter last year.

HDFC Group shares, HDFC and HDFC Bank ended up 1.7-5.4%
each on talk that the weightage of both stocks could see an increase in the upcoming review of MSCI indices scheduled for tomorrow.
ICICI Bank, Axis Bank and SBI ended up 1-1.8% each.
Other Sensex gainers include, ONGC, Sun Pharma, ICICI Bank, GAIL and L&T among others.
Among other shares, Eicher Motors surged 8% to end at Rs 9,281 after reporting a more-than-double standalone net profit at Rs 133 crore for the quarter ended June 2014 (Q2), on back of strong sales.
The manufacturer of Royal Enfield motorcycle had posted a profit of Rs 53 crore in the same quarter last fiscal.
Shares of internet software and services provider - 8K Miles Software Services - have soared 16% to end at Rs 252, after hitting record high of Rs 255 on Bombay Stock Exchange on back of heavy volumes.
Arvind Remedies ended locked in 20% upper circuit at Rs 41.55 on BSE, with the stock extending Monday's 6.94% rally triggered by the company reporting strong Q1 earnings.
Shares of Indian Oil Corporation (IOC) and Bharat Petroleum Corporation ended higher by up 3-4% each after reporting a strong set of numbers for the quarter ended June 30, 2014 (Q1).
IOC recorded a net profit of Rs 2,523 crore for the quarter ended June 2014 against loss of Rs 3,093 crore in a year ago quarter.
BPCL posted a net profit of Rs 1,216 crore in June quarter compared to Rs 150 crore in the corresponding quarter of previous fiscal.
In the broader market, the BSE MId-cap index ended up 0.5% and the Small-cap index also ended up 0.5%.