The DoT estimates that it will receive Rs 29,524 cr in revenue from the telecom industry in FY18, which is 38% less than the Budget revenue target of Rs 47,300 cr for FY18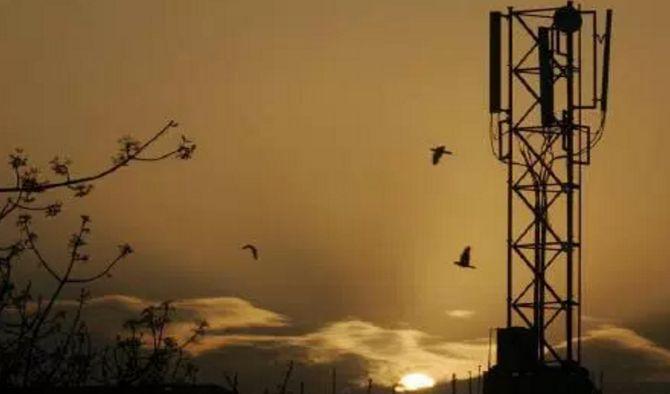 The September quarter (Q2) results indicate that it's hard going for telecom services.
The industry will soon be down to three major private service providers with two loss-making PSUs limping on.
RComm has defaulted on debt and registered a loss of over Rs 2,700 crore, with revenues dropping 45 per cent in Q2.
Idea Cellular also saw falling revenues and a loss of Rs 1,100 crore.
Idea also sold its portfolio of 10,000 towers for 30 per cent less than expected.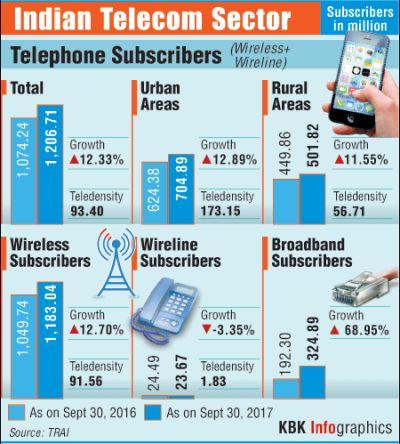 Bharti Airtel has also seen sustained pressure on revenues and margins.
Bharti Airtel saw consolidated profits drop by about 78 per cent and revenues declined by about 15 per cent for India operations. Thankfully, Africa operations have improved.
Vodafone India is not listed.
It claims that over April-September 2017, service revenue declined 15.8 per cent to Rs 19,002 crore, while Ebitda (earnings before interest, taxes, depreciation and amortisation) declined 39.2 per cent to Rs 4,074 crore.
Vodafone India has also sold off its tower portfolio ahead of the merger with Idea.
In RComm's case, the debt burden is unsustainable and it;s hard to see a normal route to a turnaround.
The Idea-Vodafone merger may help engineer a turnaround, perhaps.
Airtel has market share and financial muscle, but it had to sell stake in Bharti Infratel, raising Rs 3,325 crore to retire debt.
The trouble started with the price war launched by Reliance Jio in September 2016.
Jio's finances are still hard to judge. The parent has invested over Rs 2 lakh crore and Reliance Industries has the resources to continue supporting it, for as long as required.
Jio was allowed to offer free promotional services for an inordinately long time, charging only in April 2017.
It registered Rs 271 crore loss for July-September 2017, but it logged operating profits of Rs 1,443 crore. That was much better than consensus.
The consolidation includes Airtel taking over Telenor, Tata Telecom and Tata Telecom Maharashtra.
The RComm-Aircel merger broke down due to legal and regulatory issues but the RComm-MTS India (Sistema Shyam) is on.
The Department of Telecommunications (DoT) estimates that it will receive Rs 29,524 crore in revenue from the telecom industry in 2017-18, which is 38 per cent less than the Budget revenue target of Rs 47,300 crore for 2017-18.
This is a direct result of shrinking sector revenues due to the price war.
Airtel and Vodofone have seen ARPU (average revenue per user) falling to Rs 145-146 per month from the Rs 185 level a year ago.
Idea is at Rs 132. Jio claims an ARPU of Rs 156.
Analysts say that this could be deceptively high due to the structure of earlier promotional schemes.
Jio stands to gain from TRAI's decision to reduce interconnect usage charges (IUC) by 57 per cent to Rs 0.06 per minute from Rs 0.14 per minute.
It's estimated that Jio could gain up to Rs 4,000 crore in IUC savings.
By 2020, the TRAI intends to eliminate IUC, assuming that all operators will have roughly equal marketshare, making it revenue-neutral.
That decision to cut IUC charges faces legal challenge, due for hearings this month. Decisions here could impact valuations.
There's little room for subscriber growth except in under-penetrated rural areas where ARPU is very low.
Data is the one visible growth area. Idea's data traffic growth is up 74 per cent. Airtel's data traffic is up 65 per cent. But here too, Jio has an edge with its 4G network.
This makes life complicated for telecom investors. Every "standalone" telecom stock is under pressure, but valuations are also volatile due to rumours of mergers.
The one clear gainer is a subsidiary of a conglomerate with valuations driven more by the price of crude and refining margins.
Photograph: Reuters