The Pune-based company, at the end of fiscal 2020, had cash and cash equivalent of Rs 13,972 crore.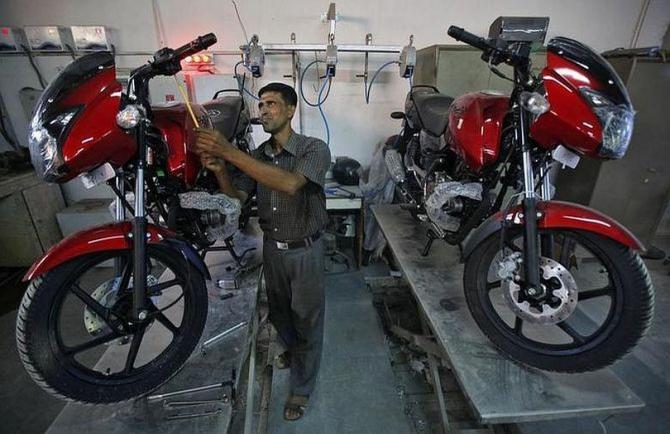 Bajaj Auto has amended its dividend distribution policy as it seeks to reward its shareholders and boost return ratios.
The amended policy will also consider the surplus the company has when calculating the dividend payout as a percentage of profits after tax, the Pune-based firm said in a stock exchange filing on Thursday.
"Subject to the caveats given in the policy, the board shall endeavour to arrive at a dividend pay-out as a percentage of profits after tax on the company's standalone financials, taking into account the surplus funds available with the firm," it said in the filing.
If Bajaj has a surplus fund of over Rs 15,000 crore (before dividend distribution), the dividend payout will be up to 90 per cent; and if it has a surplus of Rs 7,500-15,000 crore, the payout will be up to 70 per cent.
On a surplus less than Rs 7,500 crore, the payout will be up to 50 per cent.
Prior to the amendment, the policy referred to "dividend pay-out of around 50 per cent of profits after tax on standalone financials, to the extent possible".
It's a positive move for the shareholders, said Mitul Shah, head of research at Reliance Securities.
"The share­holders are likely to get higher dividends. This would reduce the company's cash balance and would boost the return ratios," said Shah.
Bajaj is one of the few auto companies to have high cash and cash equivalents.
At the end of FY20, Bajaj Auto had ca­sh and cash equivalent of Rs 13,972 crore.
It was Rs 16,741 cr­ore in FY19 and Rs 11,938 crore in FY18, according to Capi­taline.
It paid dividend of Rs 3,472 crore for the year ended March 2020.
The surplus fund for this purpose comprises investment in financial assets other than in equity shares of group companies and strategic investments, the company said.
However, Bajaj Auto is not the only firm to follow a gra­­ded approach to dividend payouts.
Another Bajaj group company, Bajaj Finance, anno­un­ced on March 15 a policy on mai­ntaining a dividend payout ratio of 15-25 per cent, depending on factors including market conditions and funding requ­irements.
Banks follow regulatory guidelines on dividend payout and have declared metrics in their dividend distribution policy.
IndusInd Bank, for example, mentioned in an earlier dividend policy document that the dividend payout ratio dep­ended on the bank's bad loans and capital buffers.
It would be zero if the capital to risk-weighted assets ratio was at the regulatory minimum of 9 per cent for the current year and the net non-performing asset ratio ranged from 5 per cent to less than 7 per cent.
Photograph: Rupak De Chowdhuri/Reuters