Tata Group-owned Air India has placed an order for 840 planes with Airbus and Boeing, including the option to acquire 370 aircraft, with a senior airline official on Thursday saying the order is a "landmark moment" in the Indian aviation history.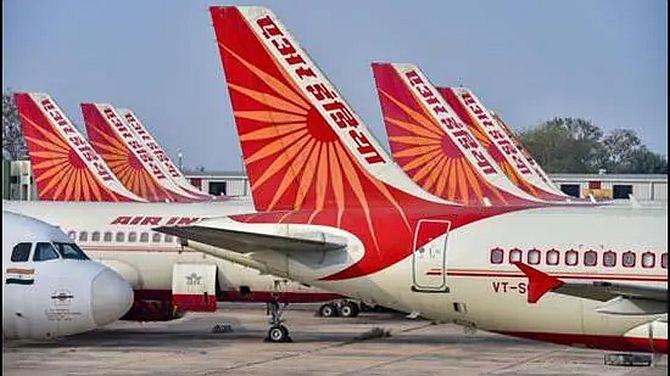 The announcement by Air India's Chief Commercial and Transformation Officer Nipun Aggarwal comes a day after the airline said it has placed a firm order for 470 aircraft -- 250 from Airbus and 220 from Boeing.
In a LinkedIn post, Aggarwal said the airline is humbled by the excitement generated across the world by the airline's aircraft order.
"The order comprises 470 firm aircraft, 370 options and purchase rights to be procured from Airbus and Boeing over the next decade," he said.
This will be one of the largest aircraft orders by an airline in the modern aviation history.
According to him, this order of 840 aircraft has been a culmination of a fascinating journey that began almost two years ago with the Air India privatisation process.
The Airbus firm order comprises 210 A320/321 Neo/XLR and 40 A350-900/1000. The Boeing firm order comprises 190 737-Max, 20 787s and 10 777s.
"We have also signed up for long-term maintenance of the engines with CFM International (CFM), Rolls-Royce and GE Aerospace," he said.
This was also the first time in more than 17 years that Air India, which was acquired from the government by Tata Group in January 2022, has ordered planes.
The first A350 plane will be delivered to the airline by the end of this year.
Aggarwal on Thursday said the order demonstrates the vision and aspiration of Tata Group to transform Air India into a world-class airline and connect India "non-stop" to every major city in the world.
"This order is also a testament to the tremendous economic potential unleashed by the Air India privatisation," he said, adding that it is indeed a landmark moment in the history of Air India and Indian aviation.
On Tuesday, Prime Minister Narendra Modi described Air India-Airbus transaction as a "landmark deal" that also reflects the deepening ties between India and France.
The prime minister along with US President Joe Biden also welcomed the landmark agreement between Air India and Boeing as a shining example of mutually beneficial cooperation.
Air India, earlier under the ownership of the government, had acquired new aircraft more than 17 years ago.
The airline's last order was for 111 planes -- 68 from Boeing and 43 from Airbus -- and that deal was worth $10.8 billion. The order was placed in 2005.
Currently, in India, around 470 commercial aircraft of Airbus are in service and the European major's order book for Indian airlines is around 850 planes. Indian carriers operate around 159 Boeing planes.
The country's airline industry is poised for expansion with more than 1,100 planes on order by various domestic carriers.