The share of total health expenditure as part of the gross domestic product (GDP) went down to 3.3 per cent in 2017-18 from 3.8 per cent in the previous two years, according to the national health account data released on Monday by the health ministry.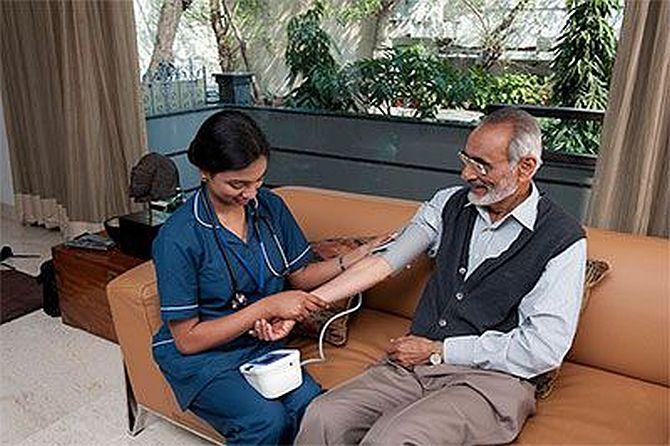 The share of government expenditure as part of total expenditure as well as GDP has gone up from from 3.78 per cent to 5.12 per cent between 2013-14 and 2017-18, which could also explain a decline seen in out of pocket expenditure in 2017-18.
Health ministry also emphasised the increase in the government health expenditure as part of the total GDP from 1.15 per cent in 2013-14 to 1.35 per cent in 2017-18.
"What needs to be seen is whether this continues. With the Ayushman Bharat getting introduced in September of 2018, the government spending may have increased, but the pandemic of 2020 and 2021 would have shot up the out of pocket expenditure," said Devendra Pant, chief economist, India Ratings.
Out-of-pocket expenditure fell to 48.8 per cent in 2017-18 from 58.7 per cent the year before.
While nationally it fell, out of pocket expenditure is much higher than the national average in some states.
For instance, in Uttar Pradesh it accounted for more than 72 per cent of the total current health expenditure in 2017-18 and West Bengal and Punjab more than 69 per cent.
"With Ayushman Bharat coming in, the government expenditure has gone up even further. However, one now needs to assess how the pandemic has induced more out of pocket spending," Dileep Mavlankar, director, Indian Institute of Public Health said.
He also said that a special round of NSSO is required to assess the family health expenditure during the pandemic years.
Per capita out-of-pocket expenditure declined from Rs 2,336 to Rs 2,097 from 2013-14 to 2017-18.
Out-of-pocket expenditure refers to expenses directly made by households at the point of receiving health care. It indicates the extent of financial protection available for households towards healthcare payments.
Experts said the government's target of raising the healthcare allocation to 2.5 per cent of the GDP, would enable a further decline in out of pocket spending.
One-third of the total health expenditure went towards pharmaceutical expenses in 2017-18.
This includes spending on prescription medicines during a health system contact and self-medication also referred to as over-the-counter products and the expenditure on pharmaceuticals as part of inpatient and outpatient care from prescribing physicians.
Private general hospitals have the biggest contribution of 29 per cent current health expenditures 2017-18, by healthcare providers compared to 16 per cent by government.
The share of primary healthcare in current government health expenditure has increased from 51.1 per cent in 2013-14 to 54.7 per cent in 2017-18.
Primary and secondary care accounts for more than 80 per cent of the current Government health expenditure.
In the private sector, while the share of tertiary care has increased, primary and secondary care show a declining trend.
Between 2016-17 and 2017-18 the government's share of primary and secondary care has increased from 75 to 86 per cent.
In the private sector, it has declined from 84 to 74 per cent.
Health ministry also said that the decline in foreign aid for health to 0.5 per cent shows India's economic self-reliance.
As a per cent of total health expenditure, the share of social security expenditure increased from six per cent in 2013-14 to around nine per cent in 2017-18.
This is the fifth consecutive NHA report produced by the National Health Systems Resource Centre.
"The 2017-18 NHA estimates not only show government expenditure on health exhibiting an increasing trend but also growing trust in the public health care system," the health ministry statement said.
"Additional bed capacities have been getting created, including in Tier 2 and Tier 3 locations.
"Therefore, increased access to hospitals, growing affordability and enhanced reach of medical insurance schemes would continue to influence the private sector's share," Dilip Jose, MD and CEO of Manipal Hospitals.
Photograph: Reuters