The stock of LTIMindtree finished at Rs 5,001 a piece on Monday, which means it is down about 5 per cent from its all-time high as its June quarter results for the 2023-24 financial year (Q1FY24) missed estimates.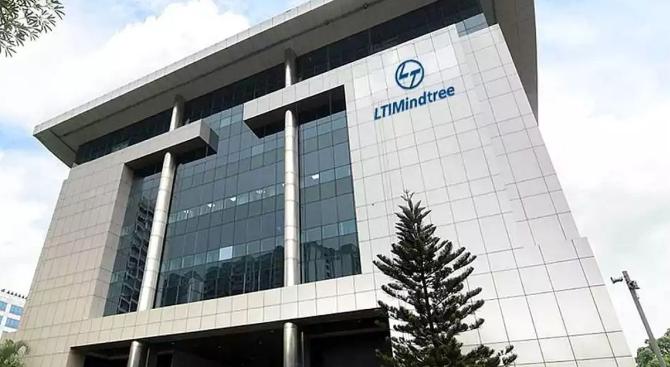 A cautious note by the management, coupled with the fact that it will miss its double digit revenue growth target for FY24 weighed on the stock price.
The company delivered revenues of just over a billion dollars in the quarter with constant currency growth of 0.1 per cent.
This was lower than the 0.4-0.7 per cent growth estimated by brokerages.
The miss came on the back of longer decision making cycles, hiring freeze at large financial service clients and delayed ramp up of deals.
While the revenue performance disappointed, margins -- at 16.7 per cent -- were better than consensus estimates, which had pegged the same at 16.2 per cent, due to higher utilisation and operational efficiencies.
Motilal Oswal Research says that the 30 basis points (bps) sequential improvement was on account of lower employee count.
The company is looking at ending FY24 with margins of 17-18 per cent even as it will rollout wage hikes in Q2.
The brokerage expects the company to deliver margins at the lower end of the guided band at 16.5 per cent in FY24, followed by 140 bps pick up in FY25 to 17.9 per cent.
Orders remain robust with total contract value at $1.41 billion as compared to $1.35 billion in Q4FY23.
The deal wins were strong and broad based with a book-to-bill ratio of 1.3 times.
Incremental commentary on verticals like hitech and banking, financial services and insurance was positive which, along with an already strong performance in travel, should support growth revival from Q2, says PhillipCapital Research.
It believes that in the medium- to long term, the company has multiple growth levers which include marquee blue chip client portfolio, large cross-sell/upsell opportunity, large deals pipeline, strong partnerships and new client additions.
The brokerage has maintained a 'buy' rating.
Despite the deal momentum (and better growth expected in Q2), achieving the FY24 double digit growth (also acknowledged by the management) could be tough.
Say Abhishek Bhandari and Krish Beriwal of Nomura Research, "While we think revenue growth is likely to improve from Q1 level (of 0.1 per cent growth), achieving double-digit growth entails a strong 4.5 per cent sequential growth in the next three quarters of FY24, is very difficult."
The brokerage has lowered its earnings per share estimates by 2 per cent to factor in the Q1FY24 results in addition to cutting its target price by a similar quantum.
Most brokerages expect constant currency growth between 6.9 per cent and 7.5 per cent for the company in FY24.
Recent gains in software stocks and the higher valuations could cap upsides for LTIMindtree.
JM Financial Research believes that the run-up in IT stocks (Nifty IT is up 6 per cent in the past week) is a bit premature amid uncertain demand and hazy outlook.
Even in LTIMindree, rich valuations -- at 26 times its FY25 earnings per share estimates -- limit upside.
The brokerage has a 'hold' rating on the stock.