The company's shares have since risen 88 per cent and closed at Rs 90 apiece on May 22.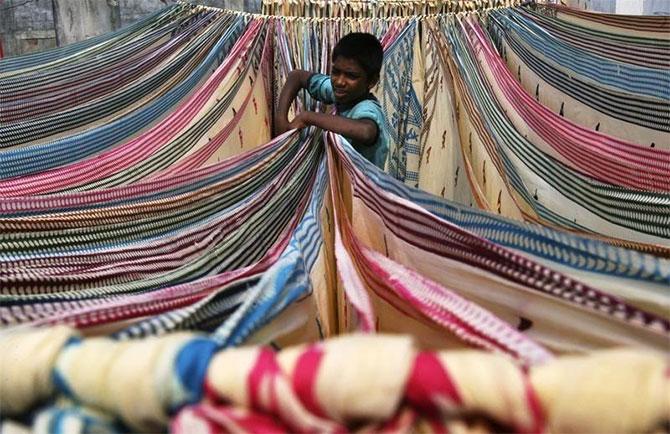 Aatur Harshad Mehta, the son of the late stockbroker Harshad Mehta, has bought a significant stake in Fair Deal Filaments, a BSE-listed textile company.
A company announcement said it had entered into a deal to sell 1.4 million shares to Mehta and Sanalkumar Kizhepata Menon.
"The board of directors of the company has accorded its approval to the promoters of the company to enter into an agreement to be executed by the company, the promoters of the company with Aatur Harshad Mehta and Sanalkumar Kizhepata Menon for the purchase of 1.45 million equity shares each at a prevailing market value of Rs 47.85 (a share)," the March 29, 2018 announcement said.
The company's shares have since risen 88 per cent and closed at Rs 90 apiece on May 22.
Fair Deal set up operations in Surat, Gujarat, in 1990 with three polyester yarn sizing machines (used for a kind of processing that yarn undergoes).
It is currently engaged in yarn manufacture and weaving, and deals in synthetic products.
It is also a marketing agent of Reliance Industries for yarn products, according to its annual report.
The two names also figure in the shareholding of another listed company.
Mehta and Menon were seen to collectively hold a 5.52 per cent stake in Kesar Petroproducts, according to its 2016-17 annual report.
The March 2018 shareholding pattern shows Menon still holds a stake, but Mehta's name does not figure in it.
Kesar also has a curious case of a shareholder who has been classified both as a promoter and a public shareholder at different times.
"No specific rationale has been given by Kesar Petro for the sudden reclassification of Rajkumar from promoter to 'public' category," said the Securities and Exchange Board of India (Sebi) order on the matter dated September 5, 2017.
The company told Sebi it had an ongoing dispute with Rajkumar over shares not being received, equal to a 5.17 per cent stake in the company on being queried about the change.
A third company that the duo has invested in is Filatex India. While Mehta bought half a million shares, Menon acquired a quarter million shares through bulk deals in April.
This takes their collective holding in the company to 1.7 per cent. The total value of Mehta's public holdings in all three companies combined is Rs 16.17 crore.
Filatex had a total market capitalisation of Rs 853 crore based on Tuesday's closing price. Kesar Petroproducts' m-cap was Rs 304 crore and Fair Deal Filaments' Rs 54 crore.
Business Standard verified Mehta's identity through publicly available documents.
This was done by going through records which mentioned his permanent account number, and matching it against the director identification number in the Registrar of Companies' records.
A home address was also checked against filings with the companies in which he owned stake.
For example, one such filing showed that he lives in Madhuli Apartments, an address made famous by news reports 20 years ago of his father's 15,000 sq ft home, which also included a swimming pool and an area for playing golf.
A Joint Parliamentary Committee tasked with looking into the Harshad Mehta case had described it as "a deliberate and criminal misuse of public funds through various types of securities transactions with the aim of illegally siphoning off funds of banks and public sector undertakings to select brokers for speculative returns".
"It is abundantly clear that the scam was the result of failure to check irregularities in the banking system and also liberalisation without adequate safeguards.
There is also some evidence of collusion of big industrial houses playing an important role.
It is because of these elements that the economy of the country had to suffer and while some gained thousands of crores, millions of investors lost their savings," said the report quoted in a 1995 Supreme Court judgment in a case heard by a bench comprising justices SP Bharucha, Jagdish Saran Verma and KS Paripoornan.
A number of civil and criminal cases were filed against Harshad Mehta, who also spent some time in custody. He died of heart attack in 2001 at 47.
"We would like to inform you that there is no relationship either directly or indirectly of the company with Mr Aatur Harshad Mehta," said Filatex in an e-mailed response.
Emails sent to Fair Deal Filaments and Kesar Petroproducts on May 1 did not receive a reply.
Business Standard was unable to get through to officials on phone numbers available on the exchange website.
Aatur Mehta and Menon acknowledged their stake in the three companies.
Mehta said he had sold his stake in Kesar Petroproducts, but Menon and his family continued to remain invested.
He also said they were not party to the dispute between Rajkumar and the company.
"The promoters of the company offered to sell shares to the two of us through their merchant bankers, in which regard the understanding is reduced to writing but no rights have been sought by us to participate in the management of the company," said Mehta in his e-mailed response about his stake in Fair Deal Filaments.
"As regards your query on rise in the share price of Fair Deal is concerned, we have played no role in the said rise, and therefore we have no comments to offer," he said.
Image used for representation purpose only.
Photograph: Krishnendu Halder/Reuters