Some experts opine that green crackers are yet not practical and question government's move to promote them.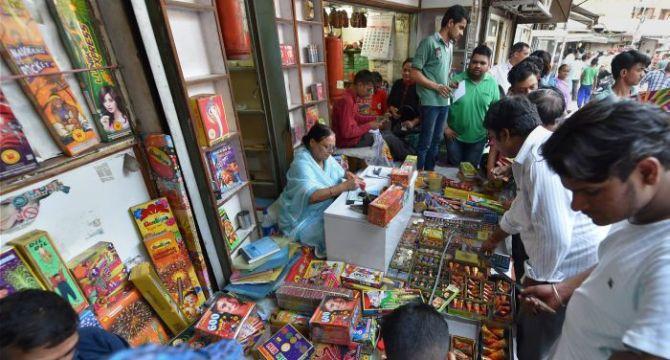 The fireworks industry in Sivakasi, Tamil Nadu, is expected to take a hit of about Rs 800 crore in the run-up to Diwali this year, primarily as it tries to comply with the Supreme Court's directive on environment-friendly crackers.
Last year, the unorganised industry that employs about 800,000 people, had earned about Rs 2,000 crore in the Diwali season.
Sources said it expects to be fully compliant with the SC's norms next year, thereby reducing losses.
Crackers from Sivakasi, a town about 550 km southwest of Chennai, have already been shipped to various centres for Diwali, which falls on October 27 this year.
However, it has not shipped huge quantities to the National Capital Region as the SC is yet to finalise rules for it.
The NCR usually reels from air pollution around this time because of burning of crackers as well as crop residue in neighbouring states such as Punjab and Haryana.
However, the air quality in the NCR has been better this year.
"In March, the SC provided clarity on what are green crackers. This helped the industry to work on such fireworks," said P Ganesan, president of Tamil Nadu Fireworks and Amorces Manufacturers' Association.
He added, "We lost the first four months of production by then. This will lead to losses of about Rs 800 crore."
Ganesan, also director of Vinayaga Sonny Fireworks Group, one of the largest fireworks manufacturers in the country, said they expected a favourable order from the SC, as most units had complied with its order.
"Things are likely to become better next year," he added.
On Saturday, Union Minister for Science and Technology Harsh Vardhan launched green firecrackers in New Delhi.
He said 530 emission-testing certificates have been issued to manufacturers for new formulations meeting the guidelines for green crackers.
Emissions-testing facilities for new firecrackers have been set up at the Council of Scientific and Industrial Research-National Environmental Engineering Research Institute (CSIR-NEERI).
A facility to analyse composition of raw material has also been set up in Sivakasi to help manufacturers test their chemicals.
A hundred and sixty-five manufacturers have joined this, and 65 more are expected to come in, said Vardhan.
A green logo and a quick response (QR) coding system have been developed to differentiate green crackers from conventional ones.
Eight laboratories have together developed improvements in conventional formulations based on barium nitrate to meet the stipulated norms, implementation of which is subject to approval of Supreme Court.
It has also developed new formulations to reduced emission of light and sound, with 30 per cent reduction in particulate matter (PM).
"Factory-level trials were conducted. Once we were sure on 30 per cent reduction in emission, guaranteed shelf-life of the product, and safety of the process, the industry started to follow that as a norm.
"All crackers manufactured now are following NEERI standards," said B Abiruben, managing director of Ayyan Fireworks Factory, adding that the new norms were yet to be ratified by the SC.
Photograph: Vijay Verma/PTI Photo