'We have identified four arenas we need to win - cloud, data, digital engineering, and Internet of Things.'
'We have to unlock (opportunities in) 5G.'
'So, we need to protect our core and win in key digital areas.'
'We have to pump in more money for branding and marketing.'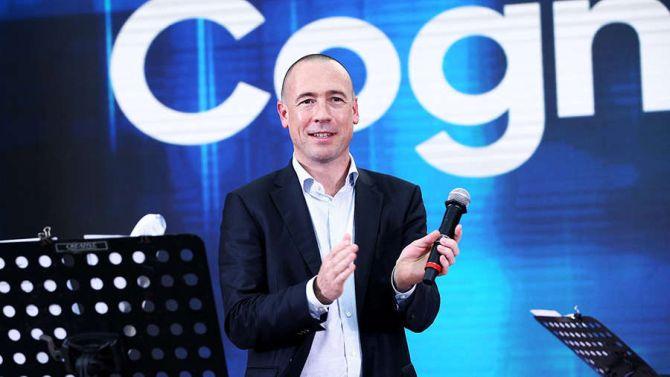 Cognizant's new-found focus on cost is not a strategy but to come back on growth path, new chief executive Brian Humphries says.
Humphries, who headed Vodafone Business earlier, tells Bibhu Ranjan Mishra & Debasis Mohapatra he will hire 30 per cent more freshers this year with 18 per cent higher salary. Edited excerpts:
How important is India for you? Some experts feel India is losing its prominence in the overall scheme of things at Cognizant. Is it true?
India is a critical part of Cognizant and will continue to be so.
We have 200,000 employees here, and this provides Cognizant a very strong competitive advantage.
I come to India once in every eight weeks, and spend at least a week during each visit.
During my current visit to India, Ram (Ramkumar Ramamoorthy) and I met chancellors of leading technical universities.
This year, we will hire 30 per cent more fresh graduates for entry-level training programme.
We also took a very progressive step to increase fresher salary by 18 per cent.
We want to attract the top of the top talent.
So, we are back to basics, we are back to growth.
A lot of reports suggested the firm will do a surgical strike on employee count, with cost optimisation being the focus. Cognizant, as we know it, has always been operating on a stated margin band. So, is it a mean to improve profitability now?
There is no focus on cost. The focus is on customer, on growth.
Cost is like M&A. It is a means to an end, not a strategy itself.
It is, of course, important as we have to be cost competitive, so that we can invest in growth, customers, and employees.
So, we always differentiate between cost and investment.
We are spending to hire 500 sales people or to re-skill our delivery team or to automate the delivery.
All these involve cost.
I think about solutions, customer needs, and how we can differentiate ourselves.
That's how we can drive revenue momentum and pick up growth.
Amazing things will happen to P&L and you need to wait.
Cognizant has been a leader. But in the past couple of quarters, there has been downward revision in guidance. What happened?
A lot has been written about Cognizant in the past years.
The first was about the activist investor.
I was not here (then).
Let me start with what I am going to do to accelerate growth.
It starts with positioning yourself strategically at the right arenas.
Then, of course, we have to invest in growth.
We have to have the right brand attributes, right employee engagement and absolute customer centricity.
So, we have traditional business that we want to protect and optimise.
This includes delivery optimisation and scaling up internationally.
What specific challenges Cognizant is facing that its peers such as TCS and Infosys are not? They seem to have a clear lead for now…
A number of things have happened in the industries that we play.
We are winning in digital, but our mix of digital is smaller than some of our peers.
We have identified four arenas we need to win - cloud, data, digital engineering, and Internet of Things.
We have to unlock (opportunities in) 5G.
So, we need to protect our core and win in key digital areas.
We have to pump in more money for branding and marketing.
We also have a heavy exposure to banking, financial services, and health care sectors where M&A issues (at some clients) have slowed down growth for a while.
When do you see Cognizant's growth rates picking up? Can you provide some timeline?
As we scale up more in digital, our growth rates will improve.
We want to grow as fast we can, as quick we can; but of course, it takes time.
So, as we start the next financial year, we will start to see improvement.
As we go into FY20, around Q2, Q3, Q4; you should see growth rates picking up.
Photograph: Courtesy, Cognizant via Facebook