It has been argued by many experts and also the previous United Progressive Alliance government that the country needs banks of global size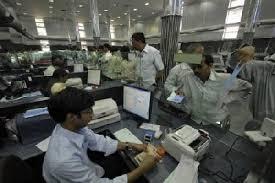 In a presentation on global best practices in the banking sector, global consultant McKinsey on Friday suggested a three-tier structure consisting of banks that are equivalent to some of the global lenders in terms of size; 'policy banks' which will implement the government's policy such as directed lending, and 'state-linked' banks, in which the government will not have a majority stake.
In the policy banks, the government can have 100 per cent stake, McKinsey said.
McKinsey has argued it is important for governments to give up control in banks for increasing efficiency since there are instances of government intervention, which affects lending.
The consultant is the knowledge partner at the two-day Gyan Sangam in Pune organised by the finance ministry.
The global consultant made presentations on all the six reforms agendas that were listed for discussions -- consolidation, financial inclusion, asset quality and recovery, technology, human resources, and priority-sector lending.
It has been argued by many experts and also the previous United Progressive Alliance government that the country needs banks of global size given the magnitude of the infrastructure financing requirement.
The previous government had said merger proposals should come from respective bank boards and the ministry will not force any banks.
As a result, no banks came forth with any merger proposal with another bank.
Earlier, an RBI-appointed committee headed by former Axis Bank Chairman P J Nayak also emphasised the need for lowering government stake in public sector banks.
The Nayak committee had observed that public sector banks face dual regulation by both RBI and government which crippled their operations.
The committee was of the view that government should stop intervening in the matters of public sector banks.
While addressing the media before the retreat started, Hasmukh Adhia, secretary, financial services in the finance ministry, said the scope of discussion of consolidation topic was not only mergers and acquisitions but also examining ways in which capital could be raised effectively.
"We will see if there is another structure by which we can raise capital, improve balance sheets etc," said Adhia.
The bankers would work till midnight to come up with a blueprint for next generation reforms, he said.
One of the biggest challenges that public sector banks face is capital.
According to government estimate, public sector banks will need Rs 2.4 lakh crore (Rs 2.4 trillion) of capital infusion by government, if the latter wants to maintain its present stake.
The rise in non-performing assets in the last few years has increased provisioning requirement for banks, which has depleted its capital.