As the debate rages over black money, industrialist and Rajya Sabha MP Rahul Bajaj on Friday said that the government should file cases of tax fraud against the suspected, instead of blaming Switzerland for refusing to share details about Indians, who have stashed money there.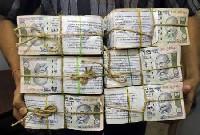 "Tax fraud is a crime in Switzerlad. You don't need to convict anyone, which in India will take 20-25 years, just file a case of tax fraud based on solid evidence, and then send the materials there and you will get the details," Bajaj Auto Chairman said, addressing Rotary club members here.

While the government had expressed its inability to avail any information on the issue in the absence of a legal framework, Bajaj said Swiss bank won't come out with details as it's against the country's own interest.

"They (Switzerland) won't give you the details. They value their customers and their economy depends on that," he clarified.

Criticising the Centre for not filing any such cases of tax fraud, he further hinted that the government and political parties were afraid of involvement of their own people.

"We are not doing the right things simply because our relatives have an account there our leaders have an account there. I want to ask all the political parties if your guys have not stashed in money in foreign tax havens then why are you worried. File cases of tax fraud here, otherwise stop blaming Switzerland," he added.

Addressing a group of industrialists on "The Role of Corporate Sector in Nation Building", Bajaj said businessmen are equally responsible for all these corruption cases.

"Let's not blame only Raja and Kalmadi, we should be ashamed as we are equally responsible. It's our duty to stop giving money under the table." he said.

Bajaj, however, also felt that Prime Minister Manmohan Singh had also lost his reputation to some extent on account of all these scams.

"No one can question PM's integrity. But because of all these scams I think he has lost his reputation to some extent in the last two months," he said at a gathering of industrialists last evening, adding that coalition politics could not be an excuse for all these scams.

"Coalition dharma does not mean adharma. It does not allow you to do wrong things, " Bajaj said.