The highest cap for the capacity would be 2 GW and can be set up in tranches at whatever location the project developer deems fit.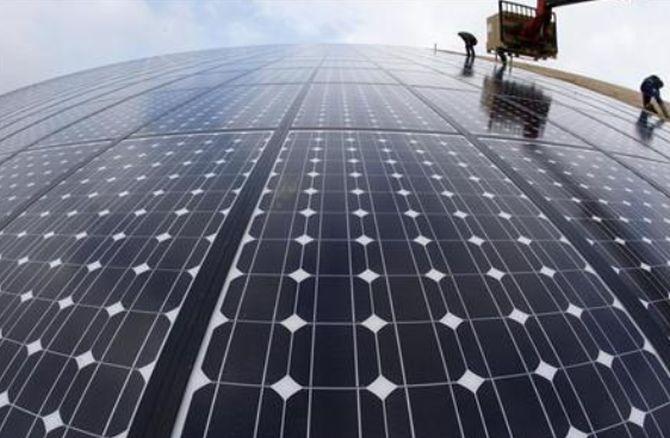 In what could be a push for SoftBank-funded SB Energy meeting its investment target in India, the government is drafting a tender for awarding 10-15 gigawatt (GW) in a single tranche.
The highest cap for the capacity would be 2 GW and can be set up in tranches at whatever location the project developer deems fit.
SECI, under the Ministry of New and Renewable Energy (MNRE), is the nodal agency to bid out solar and wind power projects.
Alongside, the power ministry, in a June 15, 2018 amendment to the solar bidding guidelines, increased the land acquisition approval time to 12 months from the current seven.
It also increased the commissioning deadline to a maximum of 21 months from the current 13.
The deadline for financial closure has also been increased to 12 months from seven.
The power ministry issues gazette notification for renewable projects as well.
The increase in the approval time is required since bigger tender sizes would mean acquisition of larger land parcels and more commissioning time.
These change, one industry executive said, "seemed to be tailor made" for the Japanese giant.
The move comes just within a month of SoftBank CEO Masayoshi Son meeting officials from the Prime Minister's Office. The company has also made representations to the MNRE.
A spokesperson for SB Energy did not comment on emailed queries on the development.
Son had asked the government to consider a bulk tender of close to 900 GW of solar projects in one go and also promote dollar-based tariff. MNRE officials confirmed the company had informally requested the ministry, though nothing had been made official.
While Minister of State for Power and New and Renewable Energy RK Singh said last week said India would bid for 100 GW of solar projects in one go, the statement was retracted later.
Government officials said the bulk tender plan was in works but the amount was close to 10-15 GW.
SB Energy recently bid for 1.8 GW out of a 3 GW tender floated by the SECI last week.
Apart from ACME, which bid for 600 MW, no other company has put in any bid. In the Pavgada solar park bid, SB Energy won against only one other bidder by quoting Rs 2.81 a unit (kilowatt per hour) for 300 MW.
According to industry sources, the domestic industry is up in arms against these changes.
The capital investment needed for bulk projects is hard to come by for domestic power developers.
"The changes have been made keeping in mind a company that is ready to make Rs 10,000 crore investment in one go and also has access to low-cost interest.
"SB Energy gets loan at 2.5 per cent rate of interest," according to a power sector executive.
For a 2GW project, Rs 1,000 crore is the minimum investment needed. For an internal rate of return of over 10 per cent at below Rs 3/unit, the rate of interest has to be below 5 per cent according to industry calculations.
Prevalent rates of interest for power projects are currently 10-12 per cent.
IL&FS Energy recently announced a joint venture with SBG for setting up 20 solar parks across the country.