Admonishing the defiant Reliance Industries, the Oil Ministry has ordered the Mukesh Ambani-run firm to immediately stop natural gas sales to non-core users like Essar Steel to meet the full demand of fertilizer and power plants.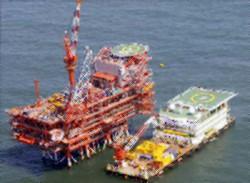 Citing the May, 2010, Supreme Court ruling that upheld the government's right to frame gas utilisation policy, the ministry last week wrote to Reliance directing it to first supply natural gas from its KG-D6 fields to priority sectors like fertiliser and power, official sources said.

Reliance is currently producing around 50 million cubic metres a day of gas from its eastern offshore KG-D6 gas block, just enough to meet contracted demand of priority sectors - urea manufacturing units, power plants, LPG extraction plants and city gas distribution companies.

It had refused to abide by the ministry's previous order that wanted the fuel to go to sectors like steel, refineries and petrochemical only if there was any gas left after meeting demand of core sectors.

Non-core sponge iron plants, petrochemicals units and oil refineries have cornered 13.13 mmscmd out of the 60.76 mmscmd of KG-D6 gas that the government had allocated in 2008 and 2009.

With production dipping to around 50 mmscmd, a worried Oil Ministry wanted the fuel to first go to core sectors.

But Reliance has refused to follow the dictat and has continued to follow the July, 2010, policy of pro rata allocation, translating into proportionate cuts in supplies to all consumers, including urea-making plants and electricity generation units, they said.

A Reliance spokesperson could not be immediately reached for comment.

With production just a tad above the 47.59 mmscmd quota allocated to core sectors, Reliance says it cannot stop supplies to any customer unless the government indemnifies it against any legal and financial damages arising from such action.

Sources said the ministry was not impressed by the firm's reasoning and cited the Supreme Court's ruling to buttress its point.

Reliance had in its gas supply and pricing dispute with Anil Ambani Group's Reliance Natural Resources Ltd (RNRL) submitted to the Supreme Court that it is a mere contractor and the government alone has the right to fix price as well as users of the gas.

The same stand was taken by the government, which the Supreme Court upheld in its May 7 judgement. Sources said Reliance itself had contended that it has no ownership over gas and it is bound by government orders and its gas utilisation policy (GUP).

The logic behind the ministry order is that it does not want fertiliser production or generation of electricity during peak summer months to suffer because of a fall in KG-D6 gas output.

Reliance has so far signed up customers for 60.76 mmscmd of gas, while production from its eastern offshore KG-D6 fields in the week ending April 3 was about 49 mmscmd.

Output is lower than the 61.5 mmscmd output achieved in March, 2010. The government had accorded highest priority to urea plants followed by LPG extraction units, power plants and city gas distribution projects while allocating KG-D6 gas.

Sixteen fertiliser plants have been allocated 15.35 mmscmd of KG-D6 gas on a firm or permanent basis, while 27 power plants in the public and private sector have got 29 mmscmd.

A sizeable 7.79 mmscmd of gas has been signed up by steel producers, while LPG plants have been alloted 2.59 mmscmd.

Refineries, including that of Reliance, have been given 3.46 mmscmd, city gas projects 0.65 mmscmd and petrochemical plants the balance 1.92 mmscmd.

The priority sector allocation totals 47.59 mmscmd, leaving almost very little for steel plants, refineries and petrochemical units from current production, they said.