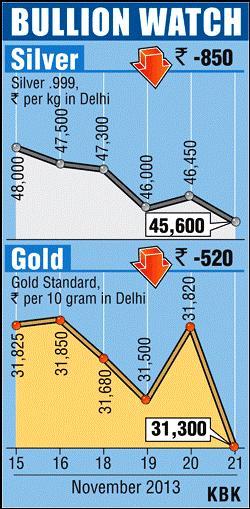 Gold prices tumbled by Rs 520 to Rs 31,300 per ten gram in the national capital today on brisk selling by stockists, triggered by a sharp fall in overseas markets.

Silver also fell by Rs 850 to Rs 45,600 per kg on poor offtake by jewellers and industrial units.

Selling pressure gathered momentum after gold fell in overseas markets as investors weighed the outlook for monetary stimulus before the Federal Reserve releases minutes of its last meeting, traders said.

Gold in New York, which normally sets price trend on the domestic front, plunged by 2.54 per cent to $1,242.30 an ounce and silver by 2.41 per cent to $19.85
an ounce on Wednesday night.
Besides, weak trend at futures market where speculators trimmed their positions and sluggish local demand at higher levels further dampened the sentiment, they said.
On the domestic front, gold of 99.9 and 99.5 per cent suffered a setback of Rs 520 each to Rs 31,300 and Rs 31,100 per ten gram, respectively.
It had gained Rs 320 on Wednesday.
Sovereign lost Rs 100 at Rs 25,200 per piece of eight gram. In a similar fashion, silver ready dropped by Rs 850 to Rs 45,600 per kg and weekly-based delivery by Rs 1,045 to Rs 44,700 per kg.
The white metal had gained Rs 450 in the previous session.
Silver coins also plunged by Rs 1,000 to Rs 84,000 for buying and Rs 85,000 for selling of 100 pieces.