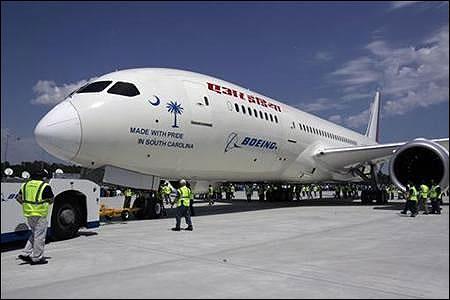 As many as 14 global aircraft lessors have evinced interest in leasing planes to Air India, which seeks to replace its ageing narrow-body fleet with new fuel efficient planes.
The state-run carrier would induct 19 new Airbus 320 neo/ ceo planes in the fleet by March 2018 on an up to 12-year dry lease as part of this plan, Air India sources told PTI.
Of these 19, five are being leased from independent Chinese lessor China Aircraft Leasing Company, which has already delivered Air India the first sharklets-equipped A320ceo plane last week, they said. The remaining four will be inducted in the fleet by October this year.
"We have received proposals from 14 companies in response to our invitation for bids for dry leasing of the remaining 14 planes. These firms, which are from the United States, United Kingdom, Europe and Singapore, have offered us to lease up to 48 planes," they said.
These proposals are being evaluated, the sources said, adding, Air India was "open" to lease more aircraft as well. A dry lease comes without insurance, crew, ground staff, supporting equipment or maintenance. Lessors generally charge an airline between 0.85 to one per cent of the aircraft's list price as rental per month.
As per the new prices announced by the French aircraft maker Airbus this year, an A320 list price stands at $97 million and A320neo at $106.02 million.
Air India currently has 60 narrow-body planes (A319s/ 320s/ 321s), besides 40 wide-body planes and four CRJs and ATRs each, in its fleet.
The airline plans to induct all these 19 aircraft between this fiscal to March 2018, the sources said adding, "the Airbus 320 Neos, which are 15 per cent more fuel efficient, will start being delivered to the airline from April, 2017."
While the A320ceo will be 180 seater, the A320neo will have a higher capacity of 236 seats, they said