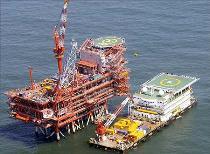 Following in the footsteps of Reliance Industries, GAIL plans to buy shale gas assets abroad.
The state-run company may soon buy nearly 20 per cent stake in two shale gas acreages - Eagle Ford shale and Barnett shale - in the US.
Company executives said GAIL was in talks with the owner of these assets. It would soon work out the offer details and seek a board approval, they said.
The deal size could be over Rs. 1,000 crore (Rs. 10 billion).
A consultant involved in the due diligence confirmed the talks were on.
"The company has been looking for a shale gas asset in the US for some time. It plans to build some expertise in shale gas technology. This may help it bid in shale gas rounds as and when the Indian government launches these auctions," a company executive said on condition of anonymity.
The Eagle Ford shale is located in multiple destinations in South Texas while Barnett is the largest onshore natural gas field in the US.
GAIL Chairman and Managing Director B C Tripathi was not available for comment.
Jefferies & Co, a US-based global securities and investment banking group, is advising GAIL.
Jefferies & Co had also advised RIL on the Carrizo Oil and Gas Inc transaction last August.
Under this deal, RIL bought a 60 per cent stake in acreages held by Carrizo and its partner for $392 million.
These included the Marcellus shale gas areas in central and northeast Pennsylvania.
With this, RIL became
the first Indian company to own a shale gas asset.
It has invested $3.44 billion in three shale gas assets in the US so far. These are said to have a potential to produce 25.4 trillion cubic feet (tcf) gas.
Shale gas is natural gas, mainly methane, which is trapped in the earth's most common sedimentary rock shale, which has low permeability.
Shales hold large amounts of organic matter from which oil and gas can be extracted by destructive distillation.
Production of shale gas, which is usually clean and dry, in the US is expected to reach 128 billion cubic metres by 2020, comprising one-quarter of the total.
According to the RailRoad Commission of Texas website, production of natural gas at the Eagle Ford shale rose from 16 billion cubic feet (bcf) in 2009 to 64 bcf in 2010.
Last October, Chesapeake Energy Corporation and China's CNOOC announced a joint venture under which CNOOC International bought a 33.3 per cent interest in Chesapeake's oil and gas assets in Eagle Ford.
GAIL is already present in exploration of coal bed methane, another unconventional gas.
Primarily a gas marketing and transport company, with interests in petrochemicals, GAIL has two oil and gas blocks in Myanmar.
The US acquisition would be its first foray into overseas unconventional gas.
The moves by RIL and GAIL could help India make a start in tapping this new source of energy.
India has signed an agreement with the US to determine shale gas reserves in the country.
This will help it launch shale gas auctions by the end of the year.